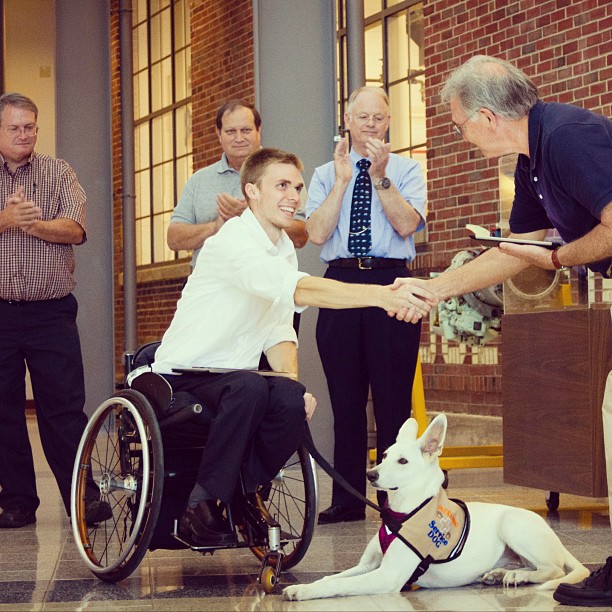 Three Purdue Aviation students were honored Sept. 4 by Able Flight, an organization committed to helping people with disabilities learn to fly:
Wesley Major, a graduate student in the Department of Aviation Technology, was presented with a volunteer service award. A graduate of the Able Flight program, Majors helped coordinate the five-week program at Purdue during Summer 2013.
Nick Losande, a professional flight major, was named Able Flight's Flight Instructor of the Year.
Major and Kevin Crombie, an aviation management major and graduate of Able Flight, were awarded Able Flight scholarships to help offset their Purdue tuition costs.
Charles Stites, executive director of Able Flight, presented the awards during a short ceremony at Niswonger Aviation Technology Building.
Nearly 20 people from across the country have come to Purdue University over the last three years to take advantage of Able Flight's flight instruction program. All achieved light sport pilot certificates at the end of their training, and two earned private pilot certificates.
(Photo: Wesley Major, with service dog Nala, receives the Able Flight volunteer service award from Charles Stites, executive director of Able Flight; in the background, aviation professors Mike Nolan, Bernie Wulle and Tom Carney applaud Major.)