Three Purdue Polytechnic faculty members discussed the challenges of transforming curriculum for the digital age Monday on an Internet radio show.
"How do you get people who are very successful in what they're doing, in a very stable organization, in a great university like Purdue [to embrace change]?" asked Gary Bertoline, dean of Purdue Polytechnic, in an appearance on "Big Beacon Radio: Transforming Higher Education."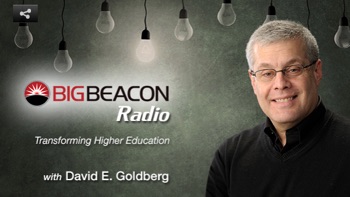 The emergence of the industrial age in the late 1700s spurred the founding of École Polytechnique in France to create the discipline of engineering, and Bertoline said the ongoing transition into the digital age is transforming the world on a similar scale and should affect college curricula.
"Higher education is under pressure. Our graduates [are] still getting great jobs and great starting salaries. But that doesn't mean we shouldn't attempt to get out in front of that, to see what we can do to lead," he said. "We need another discipline which better serves the changes which need to occur in the classroom for the 21st century. So this is the polytechnic for the digital age. We were very deliberate in choosing this name."
Constant practice should be an essential ingredient in modern learning experiences, said Rich Dionne, assistant professor of visual and performing arts and a Polytechnic faculty fellow. "In theater, when putting a play on the stage, you don't learn a technique once and then never do it again. You constantly engage in practice. [We need to] bring that back into the classroom. Let's talk about a curriculum that encourages you to engage your everyday world with the things you're learning" and vice versa, Dionne said.
Jeff Evans, interim associate dean for undergraduate programs, agreed. "When I think about music, I think about improvisation, which is the idea of extending what you know. The practice becomes a habit. An ability to adapt to changing situations, as in theater, is an improvisational thing. From an educational perspective, it's important for students to have insight on that. They will very likely have to do that throughout their lives," he said.
"When you talk with people from STEM disciplines doing actual design and manufacturing," Bertoline said, "you hear over and over again that graduates are great technically but weak on critical thinking, problem solving, and on integrating learning. These attributes are absolutely critical for being successful in this digital age."
A replay of the show, which was titled "Purdue's Polytechnic as a Case Study in Transforming Big Public Universities" and hosted by David E. Goldberg and Emma Schoenfelner, is available on the BigBeacon web site.