Soon-to-be high school sophomores and juniors waited patiently in line on the apron of Purdue University's airport to climb the stairs to the Beechjet aircraft. Once onboard, they took turns sitting in the pilot's seat with their hands on the yoke. Many of the teens attending this session of Purdue Polytechnic's TOTAL Camp had only recently received their driving permits, so it was just as well they wouldn't be piloting the jet this day. This up-close simulation would suffice for now.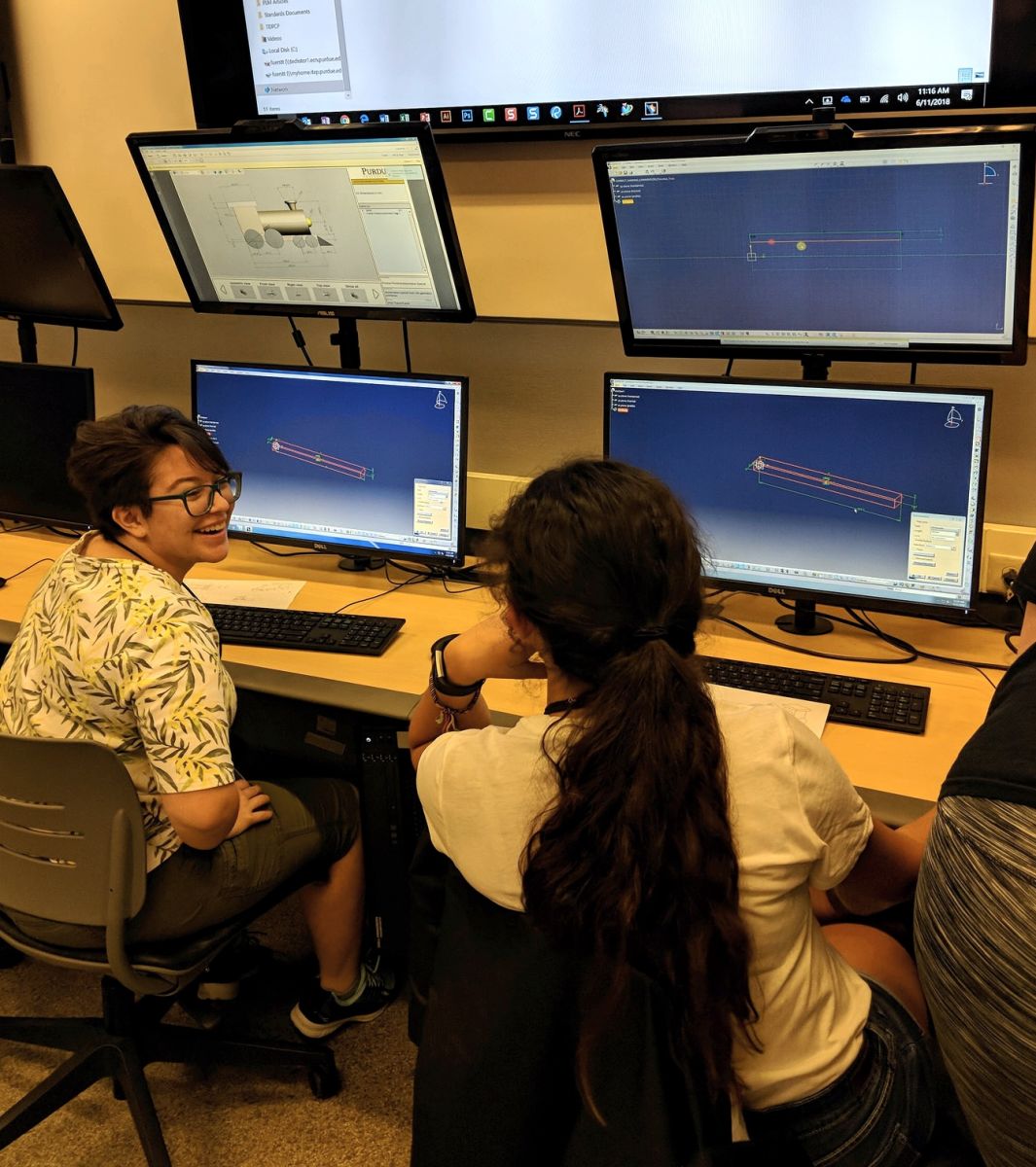 The "TOTAL" in "TOTAL Camp" stands for "Turned Onto Technology And Leadership." The purpose of the five-day STEM-themed camp is to convey the lesson that technology is more than just a machine or the latest gadget. "Technology requires humanity," said Ryne Kerchner, associate director of recruitment. "In order for technology to exist, it requires our creative thinking, teamwork, tenacity and innovation."
This summer's session of the on-campus experience hosted 38 students who will be entering 10th and 11th grades this fall. There were eight female attendees and 30 males. Nineteen were from Indiana and the other 19 were from other states.
Camp kicked off with team-building exercises to break the ice and get the teens' problem-solving synapses firing. During the week, there were early-morning wake-up calls followed by daily breakfasts in the dining court of Earhart Hall. Each day, the teens performed hands-on projects to get an idea of what those Polytechnic majors might be like. Their projects included:
Building an audio amplifier and speaker boxes to understand electrical engineering technology.
Experimenting with 3-D character animation and manipulation in computer graphics technology.
Building and programming Lego windmills and Lego Mindstorm roverbots to replicate mechanical engineering technology.
Studying data encryption methods and encrypted message creation as part of the cybersecurity program in the Department of Computer and Information Technology.
Using computer-aided design (CAD) software to design the Boilermaker Special (the train engine that drives visitors around the Purdue campus) to learn about virtual product integration, a major in the Department of Computer Graphics Technology.
Ultimately, the campers were divided into eight research project groups to explore the inner workings, innovation, history, manufacturing and consumer costs of eight of today's popular products, such as autonomous vehicles, unmanned aerial vehicles (drones) and virtual reality headsets. With their findings in mind, the campers researched the various academic degrees available from the Polytechnic's six areas of interest – aviation, computing and graphics, construction management, engineering technology, technology education and technology management – and the careers each degree can lead to in relation to each product. On the final day of camp, each group presented their findings during the camp's closing luncheon, which was also attended by their family members.
Feedback from the participants was positive. Said one camper, "The research project was pretty cool. I got to learn more about the technology I use every day, and I got to show my parents what I learned." Another camper was more effusive: "My experience was great! I had a great time and met so many great people!"
Additional information: