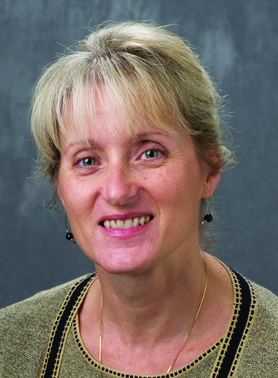 Geanie Umberger has been appointed associate dean for engagement in the College of Technology and clinical professor in the Department of Technology Leadership and Innovation.
In her role as associate dean for engagement, Umberger will enhance the college's relationships with corporate, academic, and government partners. She will work with faculty to integrate engagement activities in their scholarship portfolios. She will also work closely with Purdue's Office of Engagement and Governmental Relations.
Umberger earned a bachelor's degree in pharmacy, a master's in public health, and a Ph.D. in anatomy and neurobiology. In her postdoctoral work at the UK College of Medicine's Department of Neurology, Umberger collaborated on the development of techniques using functional MRI to potentially diagnose Alzheimer's and other memory-related diseases. Once a pharmacist at the small drug store started in 1926 by her grandfather, Umberger was a member of Registrat, Inc.'s business development team, an industrial hygienist and toxicology specialist at Lexmark International, and a member of Bristol-Myers Squibb's medical affairs department. She was also the administrative director for clinical and translational science in the Center for Clinical and Translational Research at the University of Kentucky.
Umberger, who joined the college on March 1, most recently served as Purdue's assistant vice president for corporate and foundation relations.