Exposure to the field of aviation at a young age sparked Dominique Vaughn's interest in flying. She credits her attendance at the Organization of Black Airline Pilots aviation summer camp for her success in college and in her career.
Vaughn grew up in southern Indiana and received her private pilot's license shortly before graduating from high school. She attended Purdue as a 21st Century Scholar and majored in professional flight technology.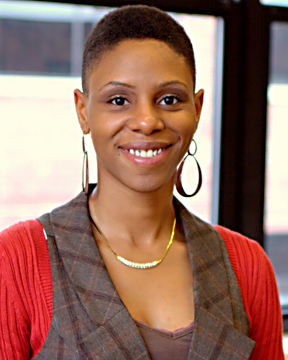 "I was one of the few African-American females in the flight program, which was very different for me. I accepted it as a challenge to excel amongst my peers," she said. She completed the program as a commercial pilot with instrument and multi-engine ratings.
She was involved in a variety of campus activities, including as a student leader for the Purdue Opportunity Awards, now the Purdue Promise program. After her graduation in 2011, Vaughn started her career and focused on raising her daughter. But she had other goals nagging at her as well.
"In addition to wanting to further my education, I wanted to continue to actively fly and work with students," she said.
In September 2012, Dominique became an AmeriCorps member and returned to Purdue to serve low-income, first-generation college students in the 21st Century Scholars program.
"I must admit, I was reluctant to leave a career to return to Lafayette, but this was a faith move in that I knew I would be happy serving these students and giving back to the scholarship program that helped me succeed in college," she said. "I was able to fulfill my desire to work with students."
In January 2013, after discovering the program through a co-worker, she enrolled in the online aviation management master's degree program offered through ProSTAR because it was tailored for working professionals and would allow her to maintain work-life balance.
"I couldn't be more pleased with the program. I have had excellent professors and advisors. The course load is manageable and enables me to study different components of aviation, such as aviation leadership and research methods," she said. "This program also helps to expand my technical skills and statistical tools for decision-making which are directly related to my work with the 21st Century Scholars program. I am becoming a better leader in aviation."
In addition to earning her master's degree, Vaughn is preparing to become a certified flight instructor, where she plans on using much of her new aviation knowledge.