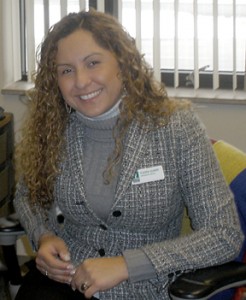 A first-generation college student and the daughter of an immigrant worker, Claudia L. Suarez, grew up in south Florida and was an English-as-second-language student through high school. She came to the United States from Colombia and completed her Bachelor of Business Administration degree at Florida International University. She found Purdue University's College of Technology Weekend Master's Program when searching for programs that allowed working professionals to advance their studies without having to interrupt their work. Claudia received acceptance to the program and a job offer at Ivy Tech Community College at the same time. After graduation, Claudia presented her research findings and shared best practices in recruiting and retaining Latino college students at state and national conferences including the Indiana Association of Collegiate Registrars and Admissions Officers Annual Conference, Indiana Latino Higher Education Council Annual Summit and Annual ACT Enrollment Planners Conference.
---
After earning my bachelor's degree, I decided to enter the workforce immediately, working as an admissions advisor for a private university. I decided that the profession of higher education and the need to help future first-generation college students and international students was my passion.
During my admissions phone interview, I was very nervous, but the admissions committee members spoke about the program with such enthusiasm that my fear of answering questions wrong disappeared.
The Weekend Master's Program was a perfect fit for me because it provided me with course schedule flexibility needed while working full-time. I was originally worried that an accelerated program was going to be very challenging for me, but I found great student support and guidance offered by all of our professors and program advisors. Purdue was a great place to learn
—
not just for academics, but also for industry experience and sound skills by top educators at the university. Through the program, I was able to conduct research in one of my areas of interest: helping young Latino students pursue a college degree after high school. The data obtained through my research helped my employer launch their first Spanish college information Web site targeted to Latino/Hispanic families in Indiana, and I am very thankful to all of my project committee members because they guided me every step of the way.
I still work for Ivy Tech Community College. I serve as the assistant director of recruitment and designated school official for international students, helping underrepresented and first-generation college students achieve their academic goals. My master's degree played a critical role in where I am right now. If it hadn't been for the encouragement and support from the Weekend Master's Program faculty and staff, the graduate school journey would have been very difficult for a non-traditional student. They helped me expand my professional and personal possibilities while continuing helping others like myself.
My advice to current students is to focus on time management and take advantage of the wide range of experience and knowledge from faculty, and even your classmates. Ask questions and decide on a project that is of personal interest or that is needed at work so that you are guaranteed to receive full support. Also, find your committee chair and members as early as possible and review some of the past cohorts' projects. Dedication, hard work and communication with your faculty and committee members are the key to a degree from Purdue University and the pride of becoming a Boilermaker.