As the College of Technology's May 2014 graduates complete their time at Purdue, we are profiling a few and finding out their future plans and how they arrived at this point in their lives.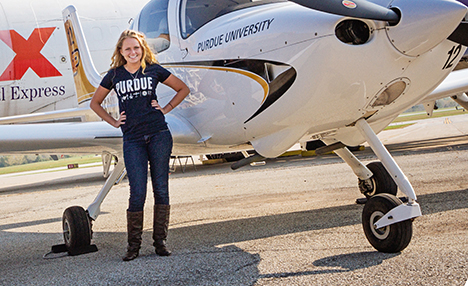 Reilly Meehan, Indianapolis, Ind.
Maintenance (MX) Planner for Republic Airways in Indianapolis
Education
Bachelor's degree in aviation management (concentration in airport management), minors in organizational leadership and supervision and creative writing.
Job duties
Basically, I'm in charge of the day-to-day functions of planning maintenance on our fleet. I make sure we stay on budget for available man-hours regarding our maintenance bases and delegate which jobs have highest priority for a given day. Duties include:
Schedule all routine maintenance, component changes, aircraft inspections, SIP's, AD's etc. to be accomplished.
Maintain accurate, timely information on components due for time change and aircraft inspection requirements.
Monitor airframe inspection compliance and component time changes and advise appropriate departments of change/inspection due.
Monitor thorough communication with maintenance control, MEL and deferred items on each aircraft as well as the availability of parts to clear each item.
Prepare and distribute the daily maintenance work packages.
Update network planning forecast programs.
Review and verify compliance on all maintenance-related tasks within FAA mandated time frames.
Purdue classes that helped Reilly for her job
Most of my aviation courses helped prepare me for this job. These classes covered a wide spectrum of the industry from aircraft operations, airport and airline management, finance, security and safety, to the basics of becoming a private pilot. It's important to understand the industry as a whole to be a good manager.
Then, the OLS and Management courses built upon that foundation in order to understand how people work together within different environments. Particular courses that helped with this were Leadership Principles and also Leadership for Organizational Change & Innovation. These two courses gave me the skills and tactics to effectively motivate people in given situations as a leader and also as a team player.
Lastly, writing is always an important skill to hold no matter what industry. Although I focused more on creative writing, it's still incredibly applicable to professional writing.
Other ways the College of Technology and/or Purdue provided preparation and assistance
The career fairs that the college held helped better establish my interviewing and other professional skills. The research opportunities provided me with opportunities to learn about various niches within the aviation industry. Also, the college gave considerable financial assistance to the Purdue Chapter of Women in Aviation organization, which I have been involved with all four years. This made it possible for our organization to afford things such as sending our members to the national conferences.
Thanks go to:
My advisors, Rose Delong-Bolyard and Suzi Walker – for keeping me on track all four years and for supporting me in everything along the way.
My professor, Denver Lopp – for being the most practical (and somewhat crazy) professor that prepared me for real world application in the industry. Also, for being an awesome mentor beyond the classroom.
Patti Keen – for being the most considerate boss and an extremely supportive advisor for our Purdue Chapter of Women in Aviation organization.