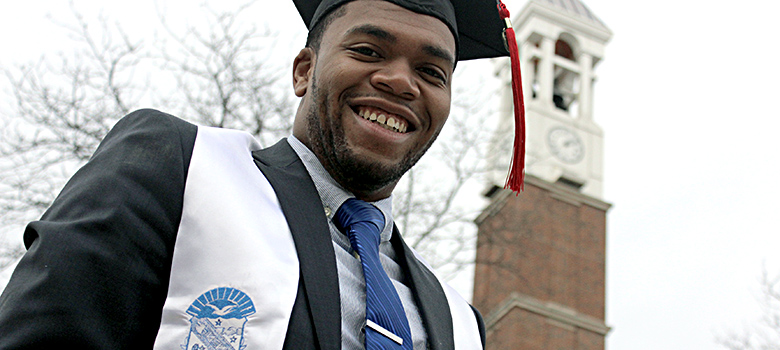 As the December 2015 graduates move into their careers, we are profiling a few and finding out their future plans and how they arrived at this point in their lives.
------
Terrance Harrell, Columbus, Ohio
Production supervisor/mechanical engineer for Allison Transmission in Indianapolis
Education
Bachelor's degree in mechanical engineering technology (MET)
Job duties
I will manage a team of operators and machines to mass-produce a new product line for Allison Transmission. I will be leading all fabrication cells and the assembly lines for the new product launch.
Purdue classes that helped Terrance prepare for his job
Manufacturing Quality Control and Materials and Processing were the two most helpful classes throughout my time at Purdue. They helped me to truly understand process flow and how to maintain quality in industry. The hands-on labs and involved class lectures really helped me to understand what really happens in industry and prepared me for what I encountered later at my internships.
Other ways the college and/or Purdue provided preparation and assistance
The Purdue Polytechnic provided multiple career fairs and preparation seminars that help put me into the right position for this job. Purdue offers so many resources and opportunities to help direct your future the way you want it to go. There are resources, such as the Center for Career Opportunities and the career fairs, that will help you with finding and preparing for a job.
Thanks go to:
Toni Munguia. She has been an inspiration and significant reason behind my success at Purdue. I first met her when I was a junior in high school, and she has taken care of me ever since.
Jessica Taylor and Maurice Williams for serving as personal mentors and offering advice for all aspects of life.
All MET professors and staff for taking their time and passion and applying it into teaching and helping students like me.