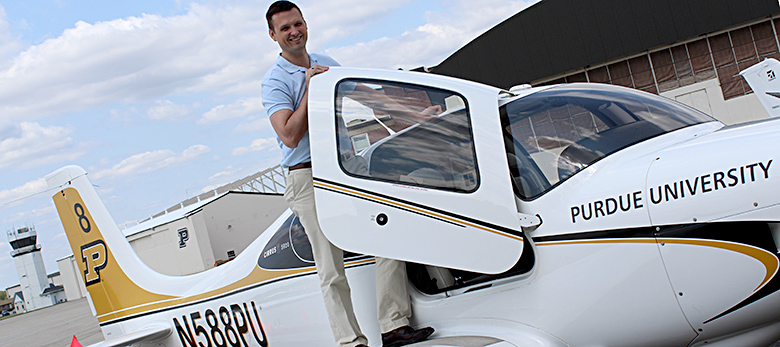 As the May 2016 graduates move into their careers, we are profiling a few and finding out their future plans and how they arrived at this point in their lives.
-----
Jim Templeton, Noblesville, Indiana
Airframe and Powerplant Mechanic for Emery Air in Rockford, Illinois
Education
Bachelor's degree in aeronautical engineering technology
Job duties
I will be responsible for maintenance on a fleet of Bombardier Q400 aircraft. I will perform engine runs, hydraulic servicing, preventative maintenance and many other duties.
Purdue classes that helped Jim prepare for his job
Advanced Turbines with Professor Mike Davis will really help me as the Q400 has turbo prop engines. Advanced turbines taught me the understanding of these engines. I will now be able to troubleshoot and repair these turbines as needed.
Other ways the college and/or Purdue provided preparation and assistance
Purdue Polytechnic requires a very strict regimen of classes. It seems that the classes I initially disliked were the ones that ended up teaching me the most.
Thanks go to:
Professor Mike Davis as he always talked to me with a level of professionalism that was hard to find.
Professor Tim Ropp was great as well. He was always a professor that challenged you to do your best and helped you up when you failed.
The whole team at hangar 6 flight maintenance department. The team down there was second to none. They helped me feel at home and not merely as a student working. If I had questions or concerns, they all would be more than happy to help. Without that level of normalcy during my tenure at Purdue, I would have had a much harder time.