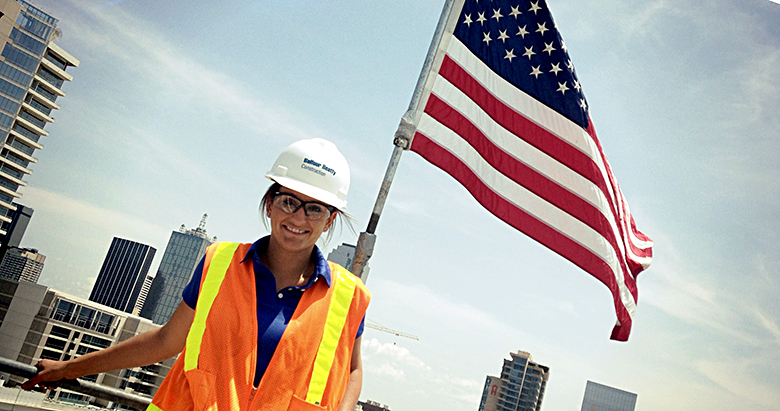 As the May 2016 graduates move into their careers, we are profiling a few and finding out their future plans and how they arrived at this point in their lives.
-----
Marque Kershner, Cicero, Indiana
Project Engineer for Integra Construction in Atlanta, Georgia
Education
Bachelor's degree in building construction management and interior design
Job duties
I will be working as part of a team on the construction of a multi-use building containing apartments and retail shops. Integra offers a unique opportunity that allows me to play a role in all areas of project management, including estimating, scheduling, and sales.
Purdue classes that helped Marque prepare for her job
Scheduling, taught by Professor James Jenkins, helped me to understand planning and control of construction projects. Construction Site Supervision, taught by Tim Krueckeberg, was instrumental in teaching real life scenarios that placed emphasis on understanding the multiple stakeholders, communication, collaboration, planning, and problem solving involved in construction management. And lastly Construction Capstone, taught by Professor Brad Benhart, helped prepare me for my new job by combining everything we have learned to date. His dedication to teaching us the topics we wanted to learn, as well as the benefit of multiple guest speakers has helped me to feel more confident as I begin my career.
Other ways the college and/or Purdue provided preparation and assistance
Purdue Polytechnic has made an incredible contribution in preparing me for my future as a project engineer. The course load offered numerous classes that I will continue to use as I develop throughout my career.
Thanks go to:
First, I would like to thank my mother. She has never stopped encouraging me to find what it is that makes me happy. And when I started college she reminded me of a quote by Abraham Lincoln, "Whatever you are be a good one."
Secondly, to Professors Wes Crawford and Jessica Cabral, for not only being great professors, but also always being someone I can turn to for advice and direction.
I am truly grateful for all of the professors and staff in Building Construction Management, and I have to thank them all for their dedication to their students and the program and for their passion.