Established in 2008 BCMentors began as a small group of underrepresented students in the program who wanted to reach out to other students and help them adjust to the department, the university, the community and the industry. Today, we are an inclusive student group that strives to help all School of Construction Management Technology (SCMT) students succeed. We are managed by a core team of student mentors.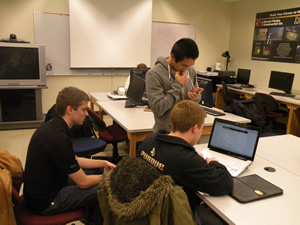 The Academic Committee is responsible for orchestrating weekly study tables where upper class Construction Management students provide any student iin our school with assistance for their courses. We host exam reviews for key courses such as BCM 17500, BCM 11200 and BCM 28500. If you would like to become a part of the academic committee, please contact Matt Olthof at moltolf@purdue.edu
Study tables and help sessions are typically held every Wednesday evening in on the 4th floor of Knoy Hall in the School of Construction Management Technology (SCMT).
The Social Committee organizes and schedules activities outside of the classroom for BCMentor members to participate in. Our social committee manages our
Intramural sports teams and construction related social events. Attending the ISA (Indiana Subcontractors Association) Trade Show and participating in a team high ropes course are examples of activities from the past. We are open to new ideas, suggestions and new members.
Current Construction Management students are the best ambassadors for our program! These students are available to work with faculty on presentations to visiting groups and they are available to travel and present to high school/middle school classes about the amazing opportunities available in our program.
Talk to a Mentor

NEW BC MENTOR CONTACTS ARE ON THE WAY! Please check back soon.

---
BCMentors advisor: Patti Morgan
If you need further information or have questions, please contact Patti at pcmorgan@purdue.edu