Established in 2008 BCMentors began as a small group of underrepresented students in the program who wanted to reach out to other students and help them adjust to the department, the university, the community and the industry.  Today, we are an inclusive student group that strives to help all Building Construction Management students succeed, managed by a core team of student mentors.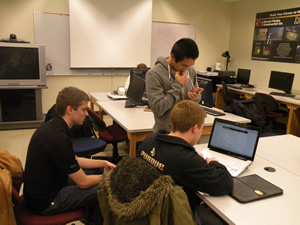 The Academic Committee is responsible for orchestrating weekly study tables where upperclass BCM students provide any BCM student assistance with their courses.  We host exam reviews for key BCM courses such as, BCM 17500, BCM 11200 and BCM 28500. If you would like to become a part of the academic committee, please contact Matt Hall at academic@bcmentors.org
The Social Committee organizes and schedules activities outside of the classroom for BCMentor members to participate in.  Our social committee manages multiple projects. 
Intramural saportsnd construction related events, such as attending the ISA (Indiana Subcontractors Association) Trade Show were examples of activities from last year. We are open to new ideas and suggestions and new members, please contact Derek Staley  at social@bcmentors.org if you would like to work with the Social Committee.
Current BCM students are the best ambassadors for our program!  These students are available to work with faculty on presentations to visiting groups and they are available to travel and present to high school/middle school classes the opportunities available in BCM. Please contact recruitment@bcmentors.org if you are interested in recruiting for BCM.
Like us on Facebook!
Talk to a Mentor
Talk to a BCM student mentor!
Want to find out what it's like to be a BCM student at Purdue University? Read what these students have to say — you can even e-mail them for more information.
Name: Derrek Staley, BCMentors Social Committee Chair
Hometown: Butler, IN  
High School: Eastside High school
Interest: Construction/ Real Estate Development For free time: Water sports, snow sports, golf and playing guitar
Classification: Senior, Dec. 2014 Grad
What attracted you to Purdue and Building Construction Management? Why did you choose it over other schools?
I didn't know it at the time but Purdue is the one of the most elite schools in the country and its BCM program is one of the best in the nations.  I wanted to stay in state and go to a big ten school so the choice was easy.
What do you like about BCM?
The professors are very passionate about what they do and helping students succeed.  Also BCM is a smaller school compared to other majors such as engineering, so we get the best of both worlds; a small community-like feeling within the major with all of the advantages and opportunities of a big ten school like Purdue.
 What outside activities are you in?  Are you an officer in any of these organizations?
I am in Sigma Alpha Epsilon Fraternity, I'm the Vice President.  I'm also in NAHB and am on the competition team where we traveled to Las Vegas to compete.
What internship opportunities have you had?
I worked in Austin, Texas with SpawGlass last summer and was on a major district-wide renovation on the local elementary, middle schools and high schools.  This summer I accepted a job with Pepper Construction in Chicago.
 What would be your "dream job"?
My dream job would be to be able to work up through Project Manager into a CFO or Operations executive of a large construction company or an executive of a large developer.
 Word of advice for prospective students:
All of the opportunities that I've had came from choosing Purdue BCM but to really be successful you need be involved and take on a leadership role.

Name: Michael Burger, Lego League Coordinator
Hometown: Indianapolis, IN
High School: Bishop Chatard High School
Interest: Construction, movies, games, making models
Classification:  Senior, December 2014 Grad
What attracted you to Purdue and Building Construction Management? Why did you choose it over other schools?
I was attracted to the Purdue and Building Construction Management by having heard about the wonderful program here. I talked with a few alumni that I know that went here and through this program and everything they told me really fell under what "fits" me best. I looked into engineering to start, but quickly decided it wasn't for me and decided to go into college for Building Construction Management.
What do you like about BCM?
There are multiple aspects of the BCM program that I like. First off, the professors really try to reach out to us, the students, to help us understand what is expected of us and they are willing to help us each step of the way. I also like how BCM is predominately filled with material that is best learned through application. I don't learn well when it comes to test so with most of the classes having a lab tagged with the lecture I am able to apply what I learned and understand how it works.
What outside activities are you in?  Are you an officer in any of these organizations? 
I don't actually spend much time outside of classes and BCMentors doing anything else. I really try to enjoy my time here with friends and make the most out of everything. I will say that I do regret not getting more involved earlier as I am having a blast helping out within BCMentors each week.
What internship opportunities have you had?
The past two summers I have interned with Shiel Sexton in Indianapolis, IN. I have mostly worked as a general laborer doing odds and ends around a very active job site and I have also worked with their in-house concrete crews building large concrete buildings.
What would be your "dream job"?
I honestly don't know what my "dream job" would be at this point in time. I really haven't decided if I want to pursue a career under a Superintendent route or a career under a project manager route. Ideally I would like to see both sides and get a feel for each route to decide ultimately what I would love to do the rest of my life. I will say that I thoroughly enjoy being on site and watching a building rise from the ground to completion, so I would guess that I might want to go in the Superintendent route
Word of advice for prospective students:
One of the best pieces of advice I would give to prospective students is to understand that this major is not the physical labor aspect of the construction process. We are taught to lead and manage the sites, although getting some of that experience within a labor force will earn you much respect with many, if not all, of the companies that will be looking to hire you down the road. This experience also serves as a vat of knowledge that you will use in classes and out on the job for years to come.
Another piece of advice it to get involved with student groups. They will help you really understand material and provide great support all throughout your college career. Not only that, but you will make great friends with not only students, but also possible employers. The student groups are great ways to really branch out your social networking and many people will take notice.
---
BCMentors advisor: Dr. Emad Elwakil
If you need further information, please contact Dr. Elwakil. (765)494-6752