Technology Expanding All Minds

For rising 8th, 9th and 10th grade students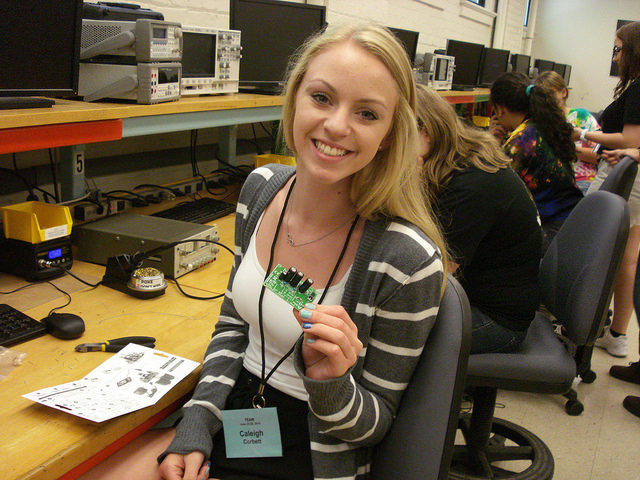 Give us five days to make a "Techie" out of you! During this camp, designed with young women in mind, you will discover how endless the uses of technology are. Students will take academic sessions with Purdue professors on subjects like robotics, game studies, computer information technology, unmanned aerial systems, aeronautical engineering, building information modeling, cyber security, or audio engineering to name a few.
Discover student life on Purdue's Big Ten campus, dining and living in the residence halls, exploring the "CoRec" or the Envision Center and unpack your research skills through our annual themed research project.

Camp Dates

TEAM is scheduled for June 24 - 28, 2018.
Sample Schedule

7:30-8:30a Breakfast (Earhard Dining)
9:00-11:45a Academic Sessions 1 & 2
12:00-1:50p Lunch & Learn (research prep)
2:00-3:30pm Cultural Center Tour & Presentation
3:30-4:45p Campus Scavenger Hunt & Fountain Run
5:00-6:00p Dinner (Ford Dining)
6:30-9:00p Bowling & Billiards (Union Rack & Roll)
9:30-11:00p Snacks & a Movie (next day prep)
11:00p-7:00a Quiet Hours
Cost and Accommodations

$400 per person, including all accommodations, meals, and activities.
Need based scholarships available; indicate need during registration.
This camp is hosted by the Purdue Polytechnic Institute Office of Recruitment, Retention, & Diversity.
Check-in time is June 25 between 2:30 and 3:30 p.m. (EST).
Program will begin at 4:00 p.m.
Registration

Registration is closed. Fill out this form to be notified when registration opens.
Questions?

About registration:
Kaitlin Floyd
Conference Coordinator
765/494-1898

About the program:
Danita Dolly
Associate Director - Retention and Diversity
765/496-0096
ddolly@purdue.edu