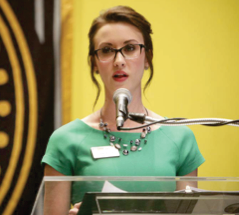 My name is Lauren Roberts. I grew up on a farm in Kentland, Indiana, and I am a non-traditional senior majoring in Organizational Leadership and Supervision (OLS). As graduation quickly approaches, I can't help but reflect on my experiences here over the past three years. Majoring in OLS has provided me with the college experience I have always hoped for. I love that what I have learned in my courses can be applied to the real world and that my professors and instructors work hard to give their students the best education possible. A direct link can be seen through my work in the packaging area, within Purdue's Division of Financial Aid, I have used the critical thinking skills I've developed in OLS to help students secure much needed grants and scholarships.
That's why "putting students first in all we do," still remains our college's #1 priority. You can see this through our ongoing transformation to reflect the evolving and expanded mission to meet the needs of today's economy. Our college will continue to build on the successes of its first 50 years as the College of Technology while aiming to meet the challenges of the next 50 as the Purdue Polytechnic Institute.
But what I have enjoyed the most is helping future students become Boilermakers.
The needs of students, like me, and our future employers are at the foundation of the name change and the college's transformation. The existing degree programs will remain. However, with more active learning opportunities, senior capstone projects, internships, an integration of humanities courses, and competency-based options, our college is strengthening our degree programs and the students who graduate from them.
I see the value a technology education has. I hope you do too. With your support of the golf scramble, we can help others see our vision and the strength of a technology degree.