Modernized teaching methods

Recognizing that a traditional lecture often is not the most effective instructional method for today's students, Purdue Polytechnic Institute faculty have enthusiastically leveraged Purdue's IMPACT (Instruction Matters: Purdue Academic Course Transformation) program. In fact, the Polytechnic leads all other colleges at Purdue in the number of faculty who have completed IMPACT training, which helps faculty bring their courses to life with student-centered, active-learning instructional techniques. Today, active learning is the predominant instructional technique in 70 percent of Polytechnic courses.
Old-school lecturer becomes active-learning pioneer

Robert Herrick, the Robert A. Hoffer Distinguished Professor of Electrical Engineering Technology and a senior faculty member of the Polytechnic, participated in IMPACT training and quickly became an early adopter of active-learning techniques. Over the course of just two semesters, Herrick overhauled how he taught and developed new, more useful tools for first-year students. One-hour recorded lectures became short, studio-produced videos as classes evolved into active, hands-on learning experiences. Now, his students work in teams to solve problems together, utilizing 65 percent of the lecture period for active learning.
For Herrick, adding a white board to each team was a real "aha" moment in terms of active learning. Students gather around their white board for a team quiz in which they document and solve a higher-level problem, and submit a photo of their team solution for follow-up feedback from the instructor.
Herrick describes the changes implemented in his classroom as a total transformation of learning and emphasizes that the transformation continues today.
"Like peeling an onion, there is always another layer," said Herrick. "And each layer reveals a new opportunity or a helpful, interim step."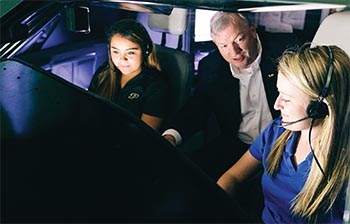 Students get involved in the learning process

The School of Aviation and Transportation Technology (SATT) recognized the value of using active-learning teaching methods, turning the old-fashioned "sage on the stage" model on its ear and achieving significant improvement in student outcomes.
Julius Keller, assistant professor of aviation technology, teaches Commercial Flight, a course that helps prepare students for a written pilot certification exam to meet Federal Aviation Administration requirements. After completing the IMPACT program, Keller retooled his class to transform students into active participants in their own learning.
HOW STUDENTS

EXPERIENCE
It's different from what you expect, and it gets everyone participating. It's another level of learning.
- William Chardack
junior, professional flight
Instead of a lecture on weather, for example, Keller asks his students, "Why is the weather the way it is right now?" Groups of students research different aspects of the weather, such as frontal systems, air pressure, temperature and humidity, and make presentations to the rest of the class. Exercises like this one require students to collaborate, discuss, and answer deeper questions – all of which makes the lesson come alive.
"If they can explain it and teach it to their classmates, they can understand it and apply it," said Keller. "Students are more engaged, and they make me a better instructor."
Keller also credits his IMPACT training with helping him to align learning outcomes and assessments. As for that written certification exam, his students have exhibited a 100 percent pass rate since the move to modernized teaching methods – an objective measurement of the success of this element of transformation.
From an active-learning assignment to a $17K Kickstarter project

A board game that uses plastic pigs to teach the value of a diversified financial portfolio began as an active-learning team project for two Polytechnic students. Their assignment: write a rules manual and a mock Kickstarter fundraising campaign for a board game.
Thibault Corens, a mechanical engineering technology major in the School of Engineering Technology, and Tyler Damm, a transdisciplinary studies in technology major in the Department of Technology, Leadership and Innovation, took the assignment a step further. The pair created CubeHog, a real board game, complete with plastic game pieces that were 3D-printed on campus. A customized deck of cards illustrated by Kaley Price, a junior in studio arts and technology in the College of Liberal Arts, completed the game.
The Kickstarter plan they created to fund CubeHog also was very real. Supporters raised $17,371, surpassing the goal of $15,000. Corens and Damm even founded TowerShield, their own limited liability company behind CubeHog.
Corens praised the real-world learning experience. "How to start a business, how to do a copyright, how to do everything legally, how to not have your ideas taken away, these are all valid experiences that we can bring to an employer that someone who didn't start this company wouldn't have had."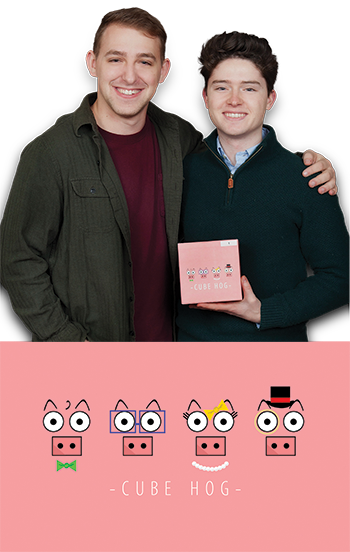 All indications point to the successful transformation of the Polytechnic.

With a focus on innovative learning methods, hands-on experiences and industry partnerships, these 10 Elements of Transformation drive the Polytechnic Institute's dedication to impactful technology education.