Fostering an increased global and cultural capacity among our faculty and students is a key focal point of the Purdue Polytechnic Institute's Office of Globalization. Over the past three years, the globalization team has identified more than 15 strategic partner locations on four continents, which provides an ideal mobility option for Polytechnic students. Perhaps the most vital due diligence work accomplished by the Office of Globalization was solidifying full-semester curriculum mapping for Polytechnic majors at 10 of these locations. Elizabeth Barajas, global programs coordinator, worked closely with academic advisors and curriculum committee leaders to successfully map semester curriculum for all of the Polytechnic's schools and departments.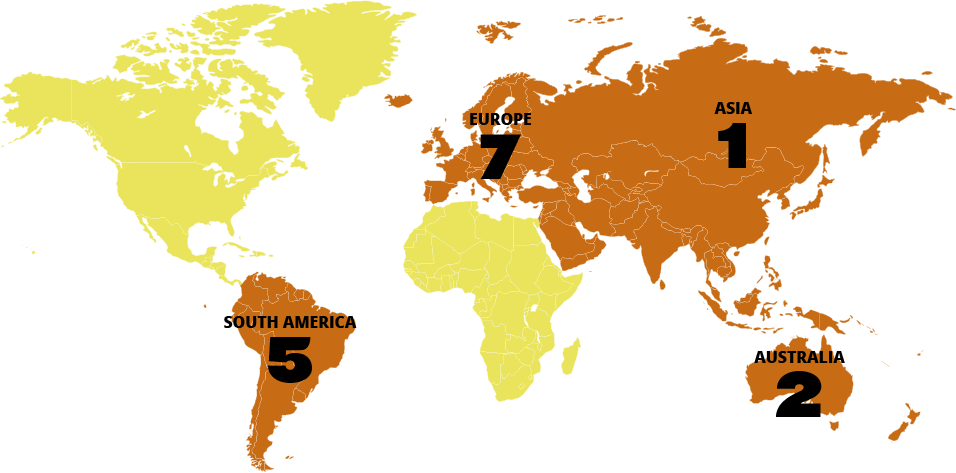 Europe: Coventry University in Coventry, England; Darmstadt University of Applied Science in Darmstadt, Germany; Munich University of Applied Sciences in Munich, Germany; Dublin Institute of Technology in Dublin, Ireland; Gdansk University of Technology in Gdansk, Poland; Universitat Politècnica de Catalunya in Barcelona, Spain; Lucerne University of Applied Sciences and Arts in Lucerne, Switzerland. Asia: Tsinghua University in Beijing, China. Australia: Queensland University of Technology in Brisbane, Australia; Royal Melbourne Institute of Technology in Melbourne, Australia. South America: Universidade de São Paulo in São Carlos, Brazil; Universidad Nacional-Medellín in Medellín, Colombia; Universidad Pontificia Bolivariana in Medellín, Colombia; Universidad de Antioquia in Medellín, Colombia; UTEC (University of Technology and Engineering) in Lima, Peru.
The Polytechnic has also increased its short-term, faculty-led study abroad offerings by 25 percent this past year to a record 20 programs (including three for Polytechnic Statewide students) for the 2016-2017 academic year. This success is a direct result of the increased support function provided by Misty Clugh, the Office of Globalization's administrative assistant. She has worked with the Polytechnic's Business Office and the University's Office of International Programs to create a series of workshops for faculty study abroad leaders. Over the past year, the required workshops have given faculty leaders the opportunity to design their programs, finalize their required documentation, and prepare their rate requests well in advance so they can then concentrate on recruiting students to their programs. These recent successes have led to more than 1,000 Polytechnic students embracing an international experience in the past five years.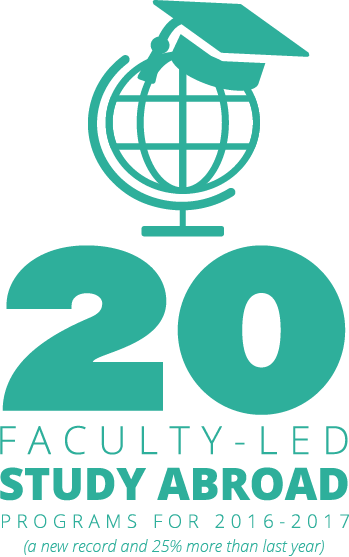 Assessments
I offer special thanks to all of the faculty study abroad leaders, who are now required to participate in eight hours of intercultural development training activities to aid in the design and implementation of each study abroad program to maximize the intercultural growth impact on our students. The feedback on the intercultural training has been very positive, and it provides further insight for faculty in the Intercultural Development Inventory (IDI) assessment instrument that will be used to analyze the intercultural competency growth of all Polytechnic students during their undergraduate experience.
The IDI is a trusted instrument for assessing the growth and development of individuals along a continuum and provides individualized plans for ways to increase intercultural capacity. The tool will be utilized in conjunction with the BEVI (Beliefs, Experiences, and Values Inventory) to measure the effect of the Polytechnic's global and cultural requirement as well as the college's deliberate actions to embed intercultural activities into the overall learning environment. Both of these assessments will provide data that will enable the college to determine the pre-and post-competency levels of Polytechnic students while analyzing and identifying which courses or intercultural activities showed the greatest impact on the individual. The results will provide us with improved ability to increase student intercultural and global capacity based on prior outcomes. They also will be used to revise courses in our current plans of study to provide better academic advising to our students.
Statewide participation
The Office of Globalization is visiting all of the Purdue Polytechnic Statewide locations this year to develop systems that ensure global and cultural enhancement opportunities are available to all Polytechnic students. We are excited to announce that the University Office of International Students and Scholars has agreed to work with the Polytechnic to identify and train two designated school officials at each location so we can begin to admit international students to statewide locations as early as Fall 2017.
We are excited to see how the rest of this academic year plays out with respect to globalization. Our globalization team stands ready to assist you in your international activities. As always, we encourage everyone to GO GLOBAL!
Robert Cox is associate dean for globalization.