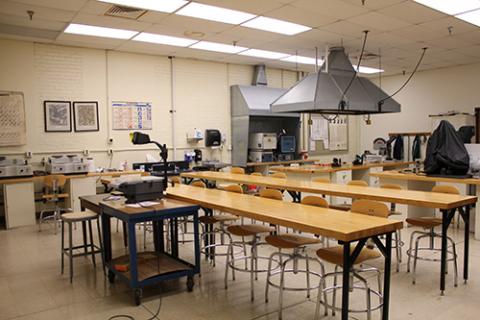 The MET Materials Laboratory provides students a hands-on environment for materials testing and characterization. Within this laboratory, students are provided with the materials and tools to determine how different materials will react to a multitude of tests. Students utilize international standards to perform hardness, impact, tensile, and grain characterization tests. Through the use of various heat treatments, strain hardening, and case hardening, students are able to physically determine how materials are affected. These tests prepare students for proper material use in engineering designs and industrial applications.
The laboratory serves:

MET 143 (Materials and Processes I)
MET 144 (Materials and Processes II)
MET 346 (Advanced Materials in Manufacturing)
Research and application:

Current research includes funded projects from the North American Die Casting Association and the U.S. Department of Energy (DOE). The lab is also used to assist the Purdue Technical Assistance Program (TAP) and companies such as Chrysler Kokomo Casting Plant and Ryobi Diecasting to improve production efficiency. Additional research has resulted in a recent patent application entitled "Method for producing Particulate-Reinforced Composites Using Acoustic Vibrations".
Available Lab Equipment:

Scales
Metallic Specimen Polishers
Hardness testers (Brinell, Rockwell, Knoop, and Vickers)
Microscopes
Charpy and Izod Impact testers
Heat treat furnaces
Metallography equipment
MTS Ultimate Testing Machine (UTM)
Jominy end quench testing apparatus
Metrology
Computers used with materials-related software