Wednesday, April 11, 2018
7:30 a.m.–3:30 p.m.

Purdue University


Buchanan Club at Ross-Ade Stadium


West Lafayette, Indiana




Note: Stadium Avenue will be closed for construction until May 13, 2018. Please plan your trip accordingly. For more information, visit the State Street redevelopment website.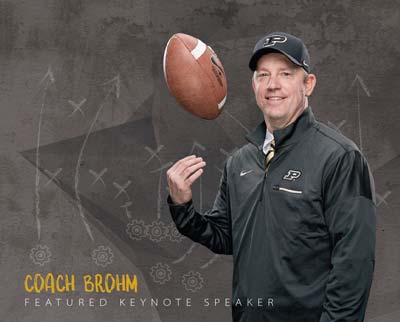 Join the Polytechnic Institute at Purdue University for our third annual Innovation Summit. We will spotlight Purdue's un-siloed, crossover approach to teaching and learning, and feature faculty from the Polytechnic Institute, College of Engineering and Krannert School of Management.
Our keynote speaker will be Jeff Brohm, head football coach at Purdue University. Coach Brohm's innovation and creativity brought new energy to the football team and student body, propelling the team from four losing seasons and half-empty stadiums to sell-out crowds and winning a bowl game. And that was just his first year on the job.
See the full conference schedule.
Presented by Purdue Polytechnic Institute
Fee: $250
Register for the Innovation Summit online.
This year, attendees can jumpstart their visit to West Lafayette with a two-day, professional development seminar, presented by Entrepreneurial Learning Initiative.
Entrepreneurial Mindset Educator Certificate

Presented by the Entrepreneurial Learning Initiative
A two-day, professional development workshop, featuring an interdisciplinary approach to entrepreneurial education
The world has changed in ways that now require everyone to be more innovative and entrepreneurial, regardless of their chosen field. Join us to learn how to infuse entrepreneurial thought and process into your classroom.
8 a.m.–5 p.m.
April 9-10, 2018
Birck Nanotechnology Center, Conference Room 1001
1205 West State Street
West Lafayette, Indiana 47907
About the Entrepreneurial Learning Initiative
The Entrepreneurial Learning Initiative (ELI) is a global thought leader dedicated to expanding human potential through entrepreneurial mindset education. ELI serves academic institutions, government agencies, profit and non-profit organizations around the world to empower their constituents with an entrepreneurial mindset through professional development training, facilitator certification and curriculum content. ELI is the creator of the Ice House Entrepreneurship Programs.
Learn more about ELI and download their brochure
Registration and fee options:
$1,495 for the two-day ELI seminar
$1,695 for the two-day ELI seminar combined with the Purdue Polytechnic Innovation Summit