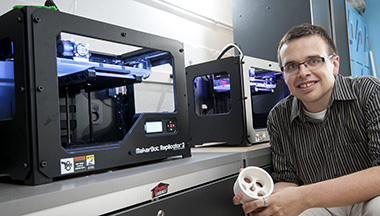 A new 3-D printing lab in Knoy Hall of Technology will showcase its capabilities during an open house Feb. 6 from 10:00 a.m. to 2:00 p.m.
The BoilerMaker Lab, in Knoy 155, houses 10 MakerBot Replicator 2 printers and one Replicator 2x printer.
Any College of Technology student or student team can use the lab. It is operated by the Association of Mechanical and Electrical Technologists (AMET) and is not tied to any course.
Davin Huston, clinical assistant professor of electrical engineering technology and advisor to AMET, said students in several departments can benefit from the BoilerMaker Lab.
"Students will use the lab for making enclosures, mounting brackets, and anything that their imaginations can create," he said. "Computer graphics students could use the printers to produce physical mockups of animated characters they design for their classes. Engineering technology students could make project enclosures, design mounting brackets or conduct stress testing of materials on their designs."
Users of the lab will be charged for the materials they use.