Next year, we will celebrate the College of Technology's 50th year of existence. The yearlong celebration will be more than an anniversary observance, however. It will be a chance to remember the foundations of the college, which stretch to the beginning of Purdue's existence. And it will be a chance for us to look forward and imagine where the college will be after its next 50 years.
The history of the college is fascinating. Despite higher education's reputation for creating silos of activity within individual colleges, the first discussions about our existence took place among faculty from across the university. The University Extension Council included senior faculty from several departments, and they "served to bring the engineering technology programs into the University's mainstream" wrote Charles Lawshe, the first dean of the School of Technology. He served from 1964 to 1966.
The main mission of the school in 1964 was to offer associate degrees at the regional campuses and in West Lafayette. In fact, the school employed more faculty across the state than it did in West Lafayette. Within the first year, the first faculty council of representatives had approved junior and senior engineering technology curriculum and a four-year professional pilot curriculum. These were the first plans of study to result in a School of Technology bachelor of science degree.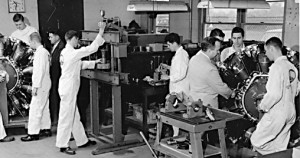 Since that time, the college has worked to meet the ever-changing needs of industry and society. It has gone through program name changes, an upgrade from School to College, four deans, growth to eight locations outside of West Lafayette, and accreditation for all West Lafayette bachelor's degrees (and some at Statewide). The academic programs now include master's and doctoral degrees, master's degrees for the working professional, and millions of dollars annually in sponsored research. And because innovation never stops, it feels like we're only getting started.
A committee of faculty and staff has laid the groundwork for an event-filled 2013-14 academic year that will educate, inspire, reflect and celebrate. A full list of activities will be released soon. We invite you to join us on campus or online to participate in all or part of the celebration.
Vanessa Buntin and Steven Lincoln
CoT 50th Anniversary Committee co-chairs
(Photo: James Maris, who in 1964 would become the first head of the Department of Aviation Technology in the School of Technology, works with students in the engine lab at the Purdue University Airport. Photo from 1955.)