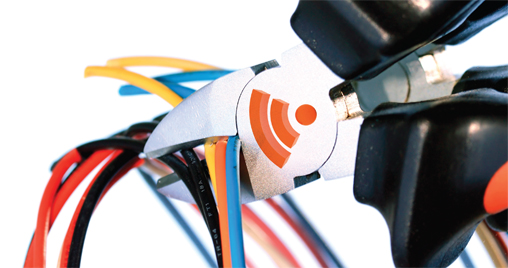 Customers don't think much about how their wireless connections happen until they lose the connection or it slows down. Constant wireless coverage and connectivity is a challenge, which is one reason why the wireless offloading company formed by three Technology students is called Challenge Systems.
Graduate students Parker Woods, Ben Doll and John Lewis — all in the Department of Computer and Information Technology — have operated their company for a year while still fulfilling the academic and assistantship requirements of their programs.
Challenge Systems specializes in wireless solutions based on the best available technologies. And they prove that any company could use their services. Current clients include a concrete company, an attorney and a financial planning firm. They also assisted the Purdue University Industrial Roundtable, boosting the wireless capability of the outdoor career fair that attracts thousands of students.
Their approach to customers has been a good selling point for them.
"We are very transparent and straightforward with clients about their challenges and environment. Project execution is a strength," Woods said. "We don't sell somebody something that they don't need."
Many similar companies are also sales forces for a specific technology. Challenge Systems is "vendor agnostic", which allows them to integrate any system together to provide the best results.
"That ability comes from the networking curriculum in our department. We can make anything work together," Lewis said.
The trio believes starting their company as students has had definite benefits.
"If you look at entrepreneurship as a whole, most people attempt to start a business after working for a while," Woods said. "I look at it as "now is the time." As a graduate student, I don't have nearly as much risk. Try it while you've got nothing to lose."
There are also a plethora of campus resources – people and programs – to provide guidance and expertise throughout the process. All you have to do is ask.
"There are always smart people around here, and they love teaching," Doll said. "If all you do is go to class every day and go back home, you're not getting your money's worth."
The students, through the company, also help teach undergraduates about entrepreneurship and provide them with practical experience. Students in CNIT 45600 (Wireless Security and Management) have been able to test Challenge Systems' solutions for coverage and security as part of the lab curriculum.