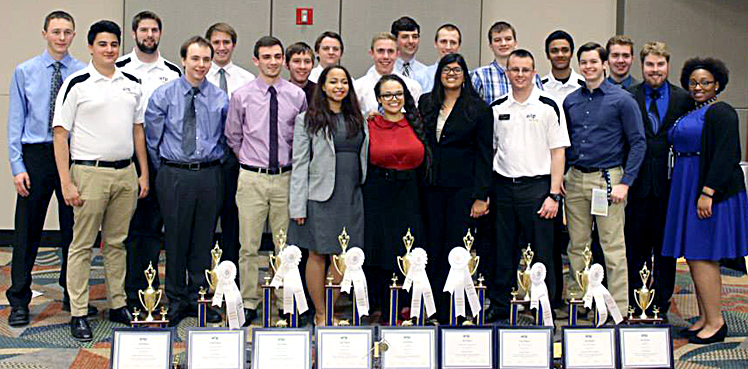 Members of the Purdue chapter of the Association of Information Technology Professionals (AITP) won several awards at the 2015 National Collegiate Conference in Omaha March 26-29.
Awards include:
Business Analytics (26 teams)

First place: Abhishek Balaji and Kirtana Venkatraman

PC Troubleshooting (153 contestants):

First place: Tyler Watterson
Honorable Mention: Andy Gustafson

Ruby on Rails RPG (16 teams)

First place: Ben Mollet, Anthony Natoli

Security Scenarios (70 contestants)

First place: Noah Stampfli

Java Developer contest (27 teams)

Second place: Ben Mollet and Anthony Natoli
Third place: Miranda Lung

Database Design (71 teams)

Second place: Miranda Lung, Sean Myers

Systems Analysis and Design (45 teams)

Second place: Sean Myers and James Staley
Honorable mention: Kiril Spasovski and Abhishek Balaji; Nicholas Brady and Stephen Claypool; Ryan Green and Iris Medina; and Ryan Rumble and Cameron Fevig.

Mobile Application Development

Third place: Dan Golant and Kimberly Barnes

Code-a-thon

Honorable mention: Ben Mollet and Anthony Natoli

Network Design

Honorable mention: Chris Fox and Everett Kennedy; Grant Miller and Noah Stampfli
Forty-six students from the College of Technology attended the conference along with advisors Dawn Laux and Phillip Rawles, both professors in the Department of Computer and Information Technology.
In addition to the competition awards, the Purdue University AITP chapter was named this year's Top Monkey Award winner for the highest level of overall conference support.