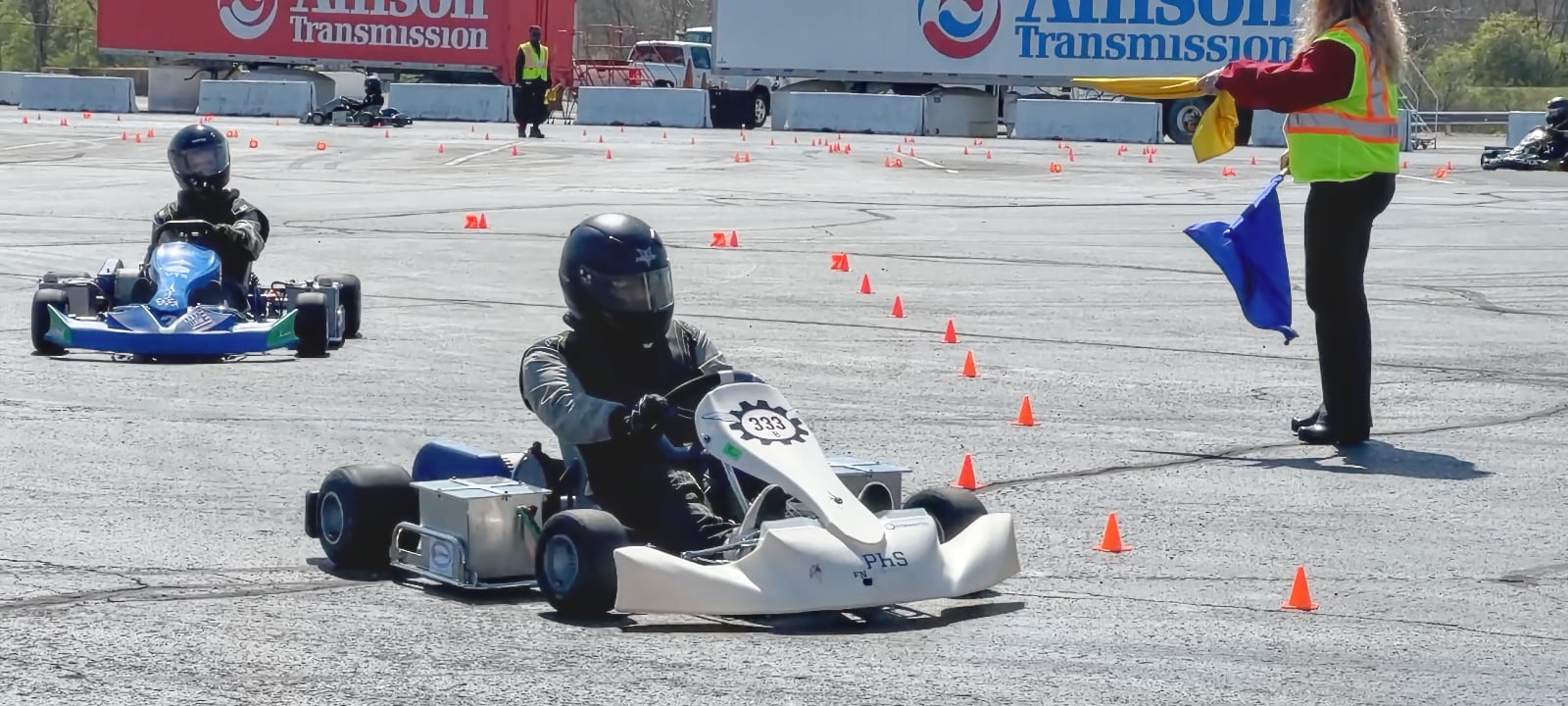 Purdue University's first evGrandPrix "Test and Tune" event for 2023 took place on Monday, April 10, at Allison Transmission's Demonstration Track in Indianapolis. Since 2010, the evGrandPrix has provided students the opportunity to create electrically powered go-karts, learning about the wider industry of electric vehicles (EV) from Purdue engineering experts and outside sponsors along the way.
The evGrandPrix program has grown over the years into a larger collaboration between many of Purdue's institutions. These institutions now include the Polytechnic Institute's School of Engineering Technology, the College of Engineering's Motorsports program and their School of Mechanical Engineering and Purdue Polytechnic's locations across Indiana. "Test and Tune" is aimed specifically at high school karting programs, giving them the space, collaboration time and support the teams need to make their karts as competitive as possible.
"We wanted to give the kids in these programs the opportunity to get more familiar with data, so starting this spring we've given them this tool called the physics box," explained Corey Sharp, director of Purdue Polytechnic statewide partnerships.
These boxes from Purdue Engineering feature prominently on all of the karts present at Allison Transmission's track, and they have been incorporated with visible connections to all of the important internal components. Sharp said, "This will allow a team to keep long-term data on relevant statistics, like energy usage or discharge within the kart's electric motor. And in the process they get working with coding languages to interpret the data – in this case, it's Python."
"Test and Tune" events have allowed high school teams with newer programs to either get into EV karting for the first time, or make a return if they had a hiatus. Rather than publicly premiering a kart during a race out of sheer necessity, new teams attending a "Test and Tune" are given the opportunity to enhance strengths and exploit weaknesses in their engineering more thoroughly than they otherwise would.
Having such an opportunity was all-but-necessary for Shelbyville High School's team, who not only experienced unanticipated setbacks in getting their EV karting program off the ground, but for whom the entire world of EV technology is completely new.
Shelbyville's engineering and technology instructor Gregg Cory said, "Us being here is a long time coming. We had established the program, and then ordered the disassembled components … which came from the manufacturer in Italy. But there were shipping delays since COVID had impacted the supply chain by the time it was ordered. But then the parts never arrived because they were destroyed – the ship [the parts were on] actually sank! So we had to get them sent to us again, and after all of the additional delays from the second shipment we've finally been able to assemble it and get it ready to drive. … All of us, myself included, haven't worked on an all-electric vehicle before. So what we're doing here today is … just to get feedback and see how the kart performs."
Teams can judge their performance through comparative times and their newfound physics box data. However they can also speak and work alongside representatives from both Purdue Motorsports and engineering experts provided by the event sponsors. In this case, that sponsor was the international manufacturer with a history over a century old, Allison Transmission.
"There is a direct correlation between the motor system, the transmission – practically all of the internal mechanisms that exist in the karts, and what we would install on an all-electric semi truck. Obviously the size is much different, and the amount of energy needed to power the semi means that it has more parts with more power behind them, but it's the same engineering principles that go into both vehicles," stated Ryan Milburn, Allison's product engineering vice president.
Just as Milburn sees a continuity between the engineering of the kart and the tractor trailer, the long-term goal of the "Test and Tune" events (and the evGrandPrix high school program as a whole) is to introduce an up-and-coming generation of ambitious students to both the professional and educational opportunities in engineering that lay before them.
Purdue clearly benefits from any program that seeks to expand the skill set of young engineers, but Allison Transmission does too. Their industry requires them to pull from the current generation of top performers in STEM across Indiana. On the other hand, Corey Sharp also thinks it's clear that the benefit flows toward students just as easily.
"If school administrators think of investing in a student engineering program like this similarly to how they'd invest in a sports program, then they're on the mark. Because every one of these kids here today could have a lucrative engineering career if they pursue these kinds of opportunities," Sharp stated.
Participating high school teams go to the Purdue Grand Prix Track (1500 McCormick Rd in West Lafayette) on May 1 for one last seasonal opportunity to show off the quality of their EV karts. Just nine days before then, the track will be the site of the 66th Annual Grand Prix. This will be a full-fledged race for the high schoolers rather than just a test, on the same track that Indiana's own collegiate-level engineers race on.
Additional information