College of Technology alumna Mikaela Nweke, recipient of the Dallas Voice of Hope Award for Excellence for 2014, was honored for being a leader in her profession, a community volunteer and a maturing Christian. She received her award from Los Angeles Dodgers pitcher and Dallas Native Clayton Kershaw.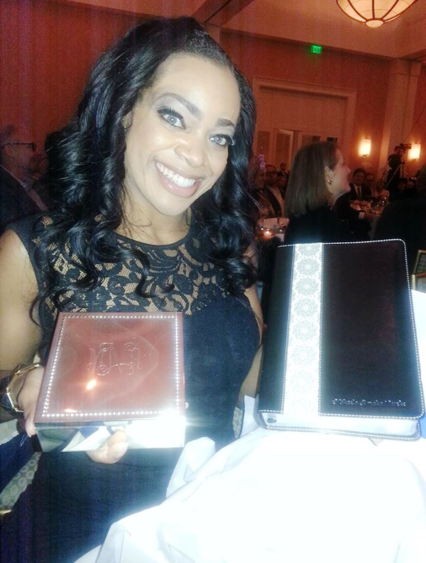 A graduate of the Dallas Voice of Hope program herself, Nweke gives all credit for her success to God.
"I am where I am because of Him," Nweke said. "My success and work ethic are just another way to display He that is in me."
Since she earned her master's degree in computer and information technology at Purdue in 2011, her work ethic has been firmly on display at ExxonMobil Global Services Company. Her job duties change every two years; she is currently a systems analyst for ExxonMobil's Global Energy Components area.
She supports the Energy Components software that tracks the company's oil and gas enterprise from production to sales. The position takes her around the country and overseas to train on-site operators on project application upgrades as well. Nweke uses the skills she learned from her data management and project management courses on a daily basis.
"The College of Technology provided me with a world-class education, global vision, and encompassing corporate life skills and experiences, which contributed greatly in progressing my career," Nweke said. "There's not a day that goes by where I don't use the practices and technical skills I learned at Purdue."
Once her workday is done, Nweke makes time to be involved in her community, volunteering on behalf of ExxonMobil and for faith-related programs.
"I've participated with several organizations such as Salvation Army, United Way, Houston Food Bank and Star of Hope Family Homeless Shelters," she said. "As a spiritual leader, I've partnered with churches and universities for on-campus Bible study programs, volunteered at local senior citizen homes, and volunteered for after-hour daycare and school programs for lower income family communities."
Just as her education prepared her well for her career, Nweke says, her participation with Voice of Hope as a teenager helped instill leadership and life skills.
"One of the guiding principles Voice of Hope instilled in me was Matthew 5:13-16, which says 'Let your light shine before others, that they may see your good deeds and glorify your father in Heaven,'" Nweke said. "Everyday we have a chance to minister through our gifts. You never know the life of another you're impacting and bringing closer to God."