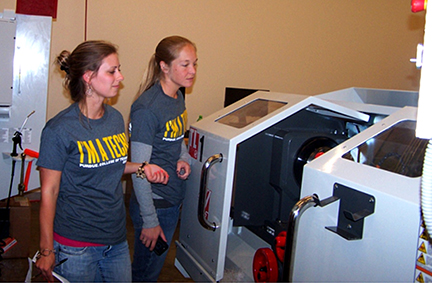 The Arvin Fabrication Lab has two new machines to help the Purdue College of Technology expose students to a variety of manufacturing experiences in its manufacturing methods classes. (Photo: Students Morgan Siener and Casey Jones observe their part being manufactured in the new lathe.)
The most recent addition to the lab is a toolroom lathe, which can be operated manually or by computer numerical control (CNC). The lathe can produce symmetrical parts that are considered bodies of revolution like baseball bats, shafts and pistons. In lathe operation, the part is rotated very quickly while a small cutting tool is moved horizontally to remove material from the part. The video below shows the first part being made in the new lathe, which was programmed by students Morgan Siener and Casey Jones.
The lathe was purchased with a $37,964 gift from the Arvin Gift Fund, administered by the Heritage Fund – The Community Foundation of Bartholomew County.
Earlier this year, the lab was able to purchase a CNC minimill, thanks to a $35,000 gift from the Community Education Coalition. Opposite from a lathe, parts in a mill are held stationary while a spinning tool moved in three direction to remove material.
The two new machines join a plastic injection molding machine and a rapid prototype mahchine (both purchased with EcO15 funds) in the Arvin Fabrication Lab. The lab is located in the Advanced Manufacturing Center of Excellence, which is also the headquarters for Purdue's College of Technology at Columbus.