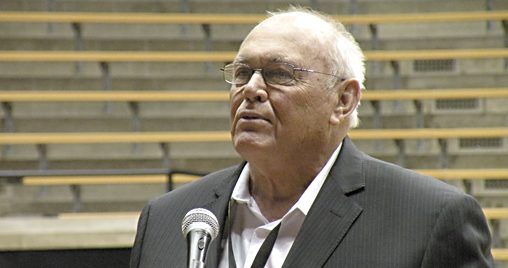 Gene Keady, former Purdue men's basketball coach, shared his philosophy on leadership with the members of the BCM Construction Advisory Council (CAC) this fall. The Fall 2012 CAC meeting was in the Spurgeon Club in Mackey Arena, and members enjoyed meeting and hearing Coach Keady speak from the floor of the basketball arena.
Keady's leadership presentation highlighted three principles:
Positive leaders have a positive point of view.
Be your best, not better than someone else.
Avoid road kill.
The Department of Building Construction Management recognizes and thanks each of its 2012-13 Construction Advisory Council members for their continued support of the program and our students!
Members include:
Anning-Johnson Co.
Baker Concrete Construction
Balfour Beatty Construction
BMW Constructors, Inc.
Bowen Engineering Corporation
Catastrophe Cleaning & Restoration Co, Inc.
CITGO Petroleum Corporation
DKI
DPR Construction
E & K Companies
F.A. Wilhelm Construction Company, Inc
Gaylor, Inc
GE Johnson Construction Company
Hensel Phelps
Hunt Construction Group
Huston Electric
JE Dunn Construction
KBR Building Group
Kiewit Corporation
Lend Lease, Inc.
Messer Construction
Michuda Construction, Inc.
National Demolition Association
PCL Construction Services, Inc.
Pepper Construction Company
Power Construction
Satterfield & Pontikes Construction, Inc.
Shiel Sexton Company Inc.
Skanska
Tecta America Corp
The Walsh Group
Turner Construction Company
Wilds Restoration
Email Fran Misch if you are interested in joining the BCM Construction Advisory Council.