Originally published in the 2016 edition of Innovation magazine
Purdue University is planning and designing a charter high school in Indianapolis, and the Purdue Polytechnic Institute is leading the project. Opening August 2017, the new school will be called Purdue Polytechnic High School, and its curriculum will be based on many of the same changes the Purdue Polytechnic Institute is implementing at the college level.
Most important is a curriculum and atmosphere that will be enticing to high school students, says Brooke Huntington, assistant dean for K-12 outreach for Purdue Polytechnic.
"Today in K-12 education, in general, we teach students how to pass tests — we teach tasks," Huntington says. "When we teach them to learn and gain knowledge, that turns them into a productive employee in the long run."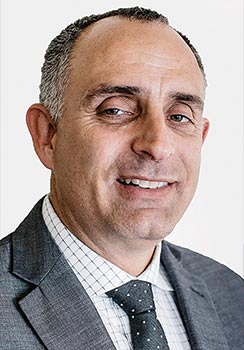 From the president of Purdue University to the current group of people working on plans for the high school, everyone agrees on the goal: to help an underserved student population in Indianapolis gain career and technical skills needed in our STEM-strong workforce. Some of the new high school's students will be able to earn an associate degree there. Others will want to continue their education in college, and they will have a tighter link to Purdue University. Others may find they gained enough skills to enter the workforce.
Scott Bess, previously chief operating officer of Goodwill Education Initiatives in Indianapolis, has been appointed the first head of the school. "We have a strong vision for this school, and we are going to start executing it with a dynamic person," Huntington says. "Scott's big focus will be on the curricular plan and development, and hiring the team that will implement the school's vision. This fall, recruitment will also begin for the 150 members of the school's first freshman class."
The first two years of the school's curricula will integrate STEM learning with humanities subjects and project-based learning. A short internship experience also is being considered. Students will choose a more focused path of courses for their last two years and be grouped into learning communities based on those courses. Students will experience more interaction with Purdue and complete a more formal internship.The charter school is a joint venture among Purdue, the City of Indianapolis, EmployIndy and USAFunds. Visit the charter school website.