Video: Purdue Polytechnic graduate Andrew Kennedy (right), technical director at Stereo D in Burbank, Calif., explains to Gary Bertoline, dean of Purdue Polytechnic, how custom software he developed became integral to the creation of Peter Jackson's new film, "They Shall Not Grow Old."
When "The Lord of the Rings" director Peter Jackson needed to restore and colorize black-and-white World War I footage for a new documentary, he contacted Stereo D, a film production services company in Burbank, Calif. Andrew Kennedy, technical director at Stereo D and a graduate of Purdue Polytechnic's computer graphics technology program (BS '12, MS '14), was assigned to the project.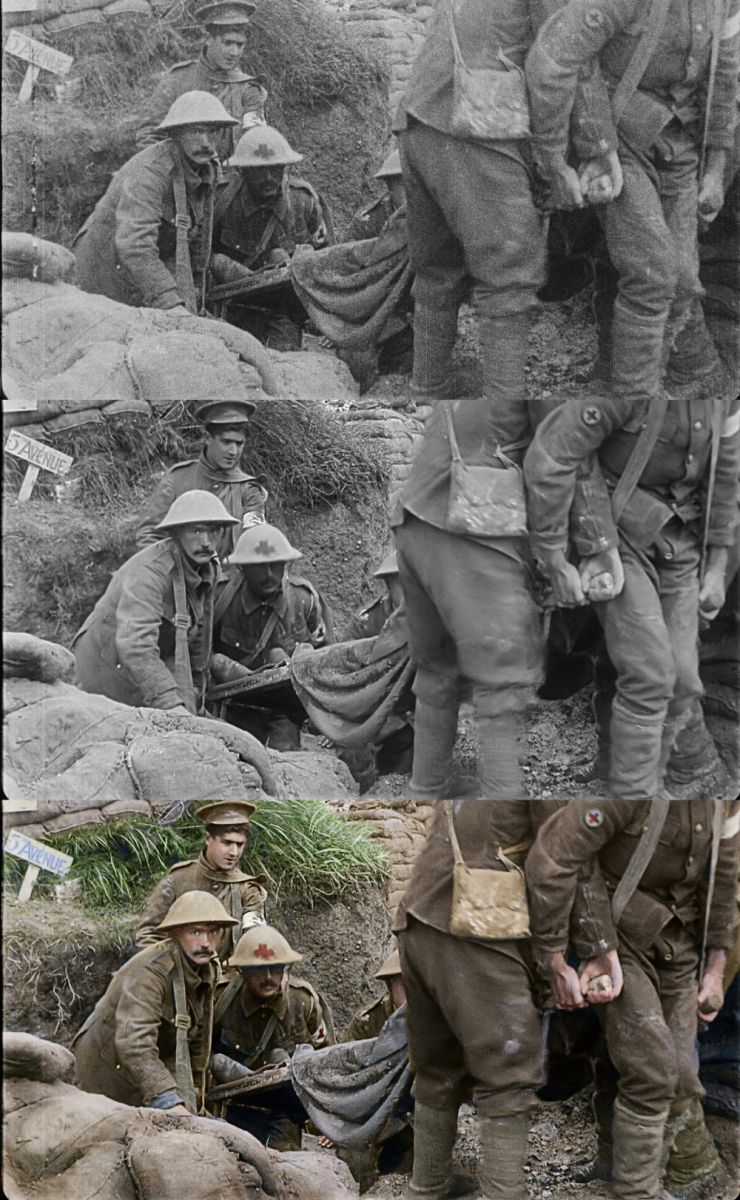 The company has tools for restoration and for converting 2D films to 3D, but they didn't have a tool well-suited to colorizing 100-year-old footage for "They Shall Not Grow Old," Jackson's new World War I film.
"As a technical director here, my role is to be a problem solver," said Kennedy. "I'm sort of a half-artist, half-programmer."
Working closely with Stereo D's in-house producer, visual effects lead, and lead restoration artist, Kennedy developed custom software that allowed artists to specify colorization data in a few clips and then intelligently apply that data to subsequent clips. His software, dubbed the Palette Tool, helped automate the process of colorizing the footage.
"Essentially, I created a workflow that allowed our artists to take a palette, save information about the different uniforms, environments and characters in the movie, and then automatically replicate that color data to shots throughout the film," Kennedy said. "This innovation allowed them to spend more time working on fine details that really enhanced the imagery."
Stereo D's approach to colorizing the film had never been done before, said Kennedy. "It was a novel approach, and we didn't set out to create this specific tool or workflow. The pie-in-the-sky idea was to create a tool that gave us a way to maintain a consistency of color treatment across shots."
Although the custom software started as a small, "what if" idea, it became "a massive tool that we used on every single shot in the movie," Kennedy said. But his software development work didn't stop when the first version of the Palette Tool became part of their workflow.
"It had been proven in a research and development context," he said, "and then I spent the next year talking with the artists, updating the tool to meet their growing needs, and fixing little bugs that popped up. By the end of the project, we ended up with a very robust tool."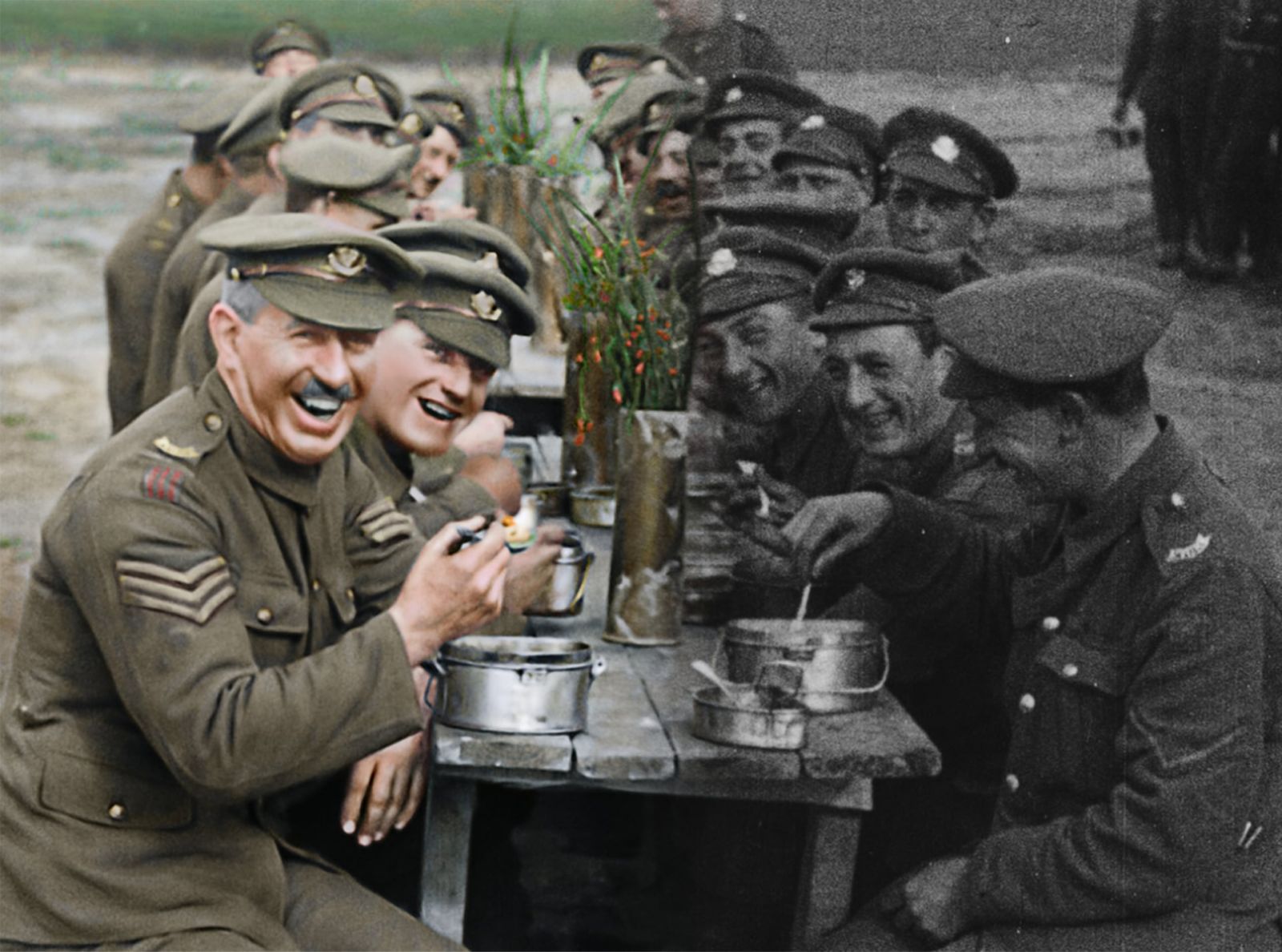 Kennedy credits Purdue for helping him build the problem-solving skills he uses at Stereo D.
"The heart of what I learned at Purdue in the computer graphics program was an interdisciplinary skill set, with technical and artistic knowledge, that enabled me to solve unique problems," he said. "I could never have gotten to where I am now without Purdue's support."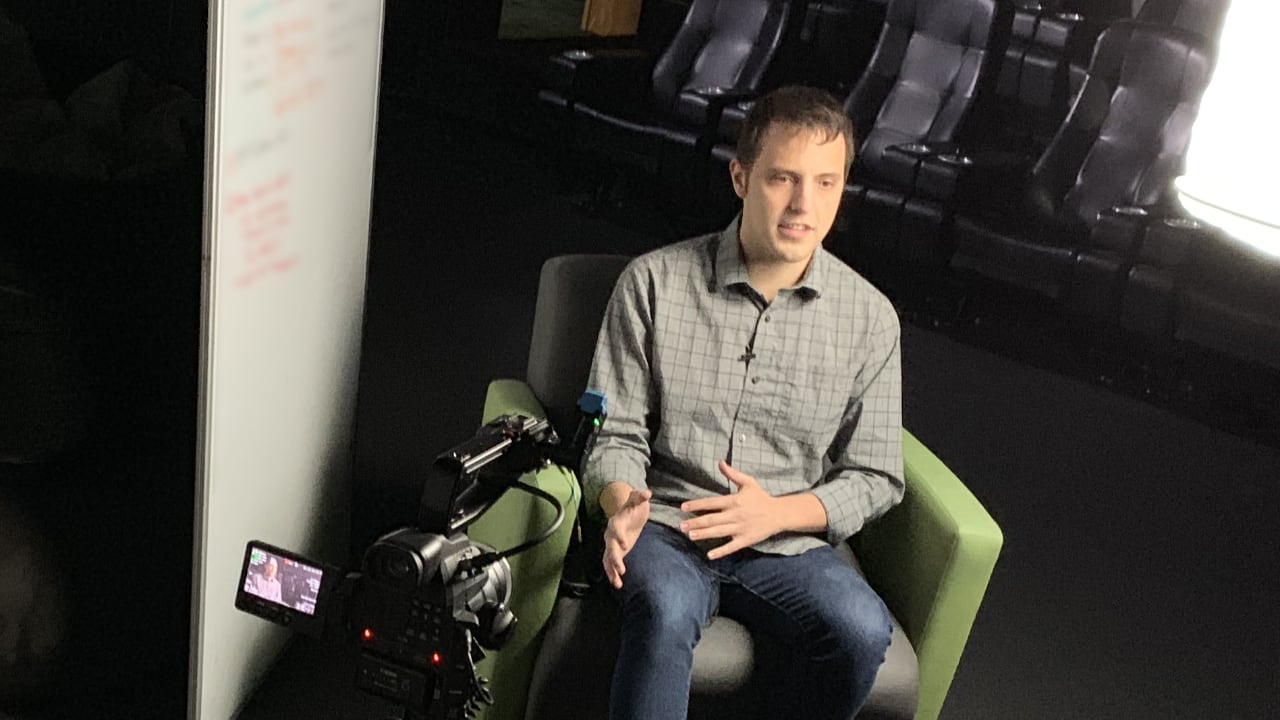 Kennedy's other 2018 film credits include "Ready Player One," "Avengers: Infinity War," "Solo: A Star Wars Story" and "Jurassic World: Fallen Kingdom." He is currently working on the 2019 film "Alita: Battle Angel."
"Coming from a small town in Indiana, I never pictured I'd be able to move to Los Angeles and work on big-name movies," said Kennedy. "It has certainly been a giant leap for me."
January 2019 update: "They Shall Not Grow Old" will be shown in West Lafayette in either 2D or 3D at both 1 and 7 p.m. Monday, Jan. 21., at the Wabash Landing 9 theater (300 E. State St.). See the Fathom Events page for nationwide show times and to buy tickets in advance.

Additional information:

Trailer:

Synopsis:

Between 1914 and 1918, a global conflict changed the course of history. The people who experienced it did not live in a silent, black and white world. Travel back in time to experience history with those who were actually there.
From Academy Award-winning filmmaker Peter Jackson ("The Lord of the Rings" Trilogy, "The Hobbit" Trilogy) comes the groundbreaking documentary "They Shall Not Grow Old," presented on the centenary of the end of the First World War.
Applying state-of-the-art restoration, colorization and 3D technologies to century-old footage—carefully chosen from hundreds of hours of original Great War film held in the archives of the Imperial War Museum (IWM)—Jackson has created an intensely gripping, immersive and authentic cinematic experience. The only narration comes from Great War veterans themselves, selected from over 600 hours of BBC and IWM archive interviews, resulting in a gripping account of "The War to End All Wars," told by the soldiers who experienced it.
By restoring the original footage to a standard never seen before, the human face of WWI emerges with vivid clarity through the fog of time. Jackson captures the day-to-day experience of its soldiers and reveals the reality of war for those on the front line: their attitudes about the conflict; their camaraderie and their need for humor amidst the horror; the functions of daily life in the trenches; and what their lives were like during periods of rest.
Using cutting-edge techniques to transform the images of a century ago into footage that could have been shot today, Jackson both remembers and honors a generation changed forever by a global war.
"They Shall Not Grow Old" was directed by Peter Jackson and produced by Clare Olssen and Jackson, with Ken Kamins, Tessa Ross, Di Lees and Jenny Waldman serving as executive producers. The film was edited by Jabez Olssen. The music is by David Donaldson, Janet Roddick & Steve Roche.
Warner Bros. Pictures presents a Wingnut Films Production, co‐commissioned by 14‐18 NOW and Imperial War Museum in association with BBC. It is being distributed worldwide by Warner Bros. Pictures.
#TheyShallNotGrowOld
Photos:

Larger version of three-pane restoration / colorization photo: Caption: The progression from the original to the final colorized image in a moment from Peter Jackson's acclaimed WWI documentary "They Shall Not Grow Old," a Warner Bros. Pictures release. (Courtesy of Warner Bros. Pictures. © 2018 Imperial War Museum.)
Larger version of side-by-side colorized / original photo: Caption: A before and after image showing the original film on the right and the restored and colorized image on the left in a moment from Peter Jackson's acclaimed WWI documentary "They Shall Not Grow Old," a Warner Bros. Pictures release. (Courtesy of Warner Bros. Pictures. © 2018 Imperial War Museum.)