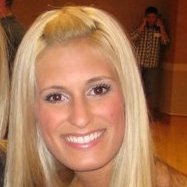 U.S. Homeland Security Investigations (HSI) recently recognized Rachel Sitarz, a College of Technology Ph.D. candidate in cyber forensics, for her efforts in support of a nationally coordinated investigation in 2012.
The HSI Executive Associate Director's Annual Awards Program recognized the Chicago Office for "Outstanding Investigative Accomplishments - Immigration Fraud" in "Operation Island Express". The investigation targeted a transnational document trafficking organization based in Puerto Rico.
Sitarz has also helped summer camp participants discover cyber forensics as a subject to study in college. Watch a video about one of her workshops.