In amongst 7,000 bottles of wine, 80 judges, and many volunteers sits Philip Rawles, associate professor of computer and information technology. For two months every year, his work at the Indy International Wine Competition helps keep the event organized and running smoothly.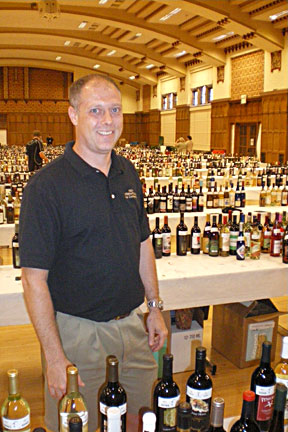 The competition is coordinated by the Department of Food Science in Purdue's College of Agriculture. It is the largest scientifically organized and independent wine competition in the United States.
Rawles has been involved with the competition since 1996.
"This is a great example of two colleges working together," Rawles says. "I bring experience in information technology into play. The College of Technology provides equipment, switches, firewalls and servers for the event. It would be cost prohibitive for them to go out to the open market once a year to make this happen."
Rawles's duties revolve around the data about each of the wines entered into the competition. He spends several weeks leading up to the event entering each wine's information into a database that he has continually updated and improved each year.
"His system sets up the tasting flights," said Jill Blume, executive director of the competition and enology specialist in the Department of Food Science. "We can pull any wine off a table and tell you all about it and who will be judging it. Each wine record contains lots of information."
Depending on changes in the competition, Rawles also writes queries that enable organizers to group, compare, and rate wines based on judges' scoring. In 2010, for example, an award for best wine brand was added to the event.
"You have to parse the data. The code that helps identify that award is about seven pages long," Rawles says.
The nature of the competition's subject requires a lot of human input for the database to work properly. For example, sorting the list for all Cabernet Sauvignon wines is quite easy. Sorting for all native white grapes, however, requires special information from the organizers.
"I had to build the database with a lot of flexibility so that they can do their job," Rawles says. "Since it is only used once a year, this is an excellent case study on the importance of structured coding and documentation."
Blume is thankful Rawles's involvement.
"Phil's role is vital to the competition," she said. "The information flow is accurate and timely. It makes us a well-organized and well-run competition. It's a smooth operating system."