It's 5:45 a.m. on a Monday morning, and Angel Price (BS mechanical engineering technology '07) is already on the move.
She walks fast, passing industrial-size compressors and pumps through concrete corridors surrounded by steel beams and conduits full of cables. She's getting reports from her third-shift manager about what happened overnight and building task lists for her day staff. At first glance, she could be any engineering services manager on any typical industrial jobsite.
But just over the treeline sits the rest of Price's world, which is not typical at all: flying banshees, singing shamans and floating mountains.
We're at Disney's Animal Kingdom Theme Park, one of the four major parks at the Walt Disney World Resort in Orlando, Florida. Price is senior manager of engineering services, overseeing the attractions in "Pandora – The World of Avatar," a real-life recreation of the magical world from the 2009 film "Avatar." It's Price's job to keep the banshees flying, the mountains floating and the shaman singing.
"Usually if your car breaks down, you take it to the shop to get fixed," she says. "If our ride vehicles break down, we are the shop! We have to get in there and fix things, and we have to do it safely, quickly, and in place. We are the team behind-the-scenes, keeping the magic alive."
Chutes and Ladders

Price grew up in Nashville, Tennessee, displaying obvious talent but not a clear direction. "When I was growing up, I wanted to be an astronaut, and then a firefighter, and then a news anchor," she says. "But the common thread was, I was always interested in figuring out how things worked. At the end of a movie, they would show behind-the-scenes features about how they did the special effects, and I just loved that."
Her parents sent her to a magnet school focused on science and math, but Price also participated in theater and art. This combination of left-brain and right-brain proved to be crucial in her future at Disney — and at Purdue.
"I chose Purdue because I wanted to do special effects," she says. "So they put me in visual communications. But it wasn't exactly what I expected, and I got a D on one of my illustrations. I thought to myself, I need something that is more technical and less subjective. So after two years, I transferred over" to mechanical engineering technology, a major in what is now Purdue University's Polytechnic Institute.
Though certainly not a common path, it turned out to be the ideal spark to launch Price's career. She flourished in manufacturing classes. She learned how to weld and how to write computer code. In a prescient moment, she worked on a design project with Mark French, professor of mechanical engineering technology, to build an animatronic robot head. "I think the only action it would perform successfully is if I moved it like a puppet," she laughs. "Of course, that was then – today I work with the most sophisticated animatronics in the world."
Price's Disney journey began quite serendipitously. Walking across campus on a snowy winter's night, she stopped into the nearest building to warm up – right into a room where Disney representatives were holding a career fair. "I was in shock," she remembers. "I saw endless possibilities at Disney. It was so exciting to think about joining their team."
She first embarked on the Disney College Program, a national program for recruiting college students to paid internships. Like many summer interns, she was given an entry-level job: touring guests through the futuristic "House of Innoventions" at EPCOT. "I had to memorize a 25-page script and perform it in front of people five times a day," she remembers. "It certainly helped me hone my presentation skills, and to this day I love talking to people about STEM."
She then tried her hand at attraction engineering, working behind-the-scenes at the newly opened "Expedition Everest – Legend of the Forbidden Mountain" roller coaster at Disney's Animal Kingdom Theme Park. "It was my first exposure to engineering services here at Disney, and I just fell in love with it," she says. "I loved being out there where the action is, rather than sitting behind a computer. I wanted to interact with people; I wanted to work with my hands. I made up my mind right then and there to come back to Disney next summer and go for attraction engineering."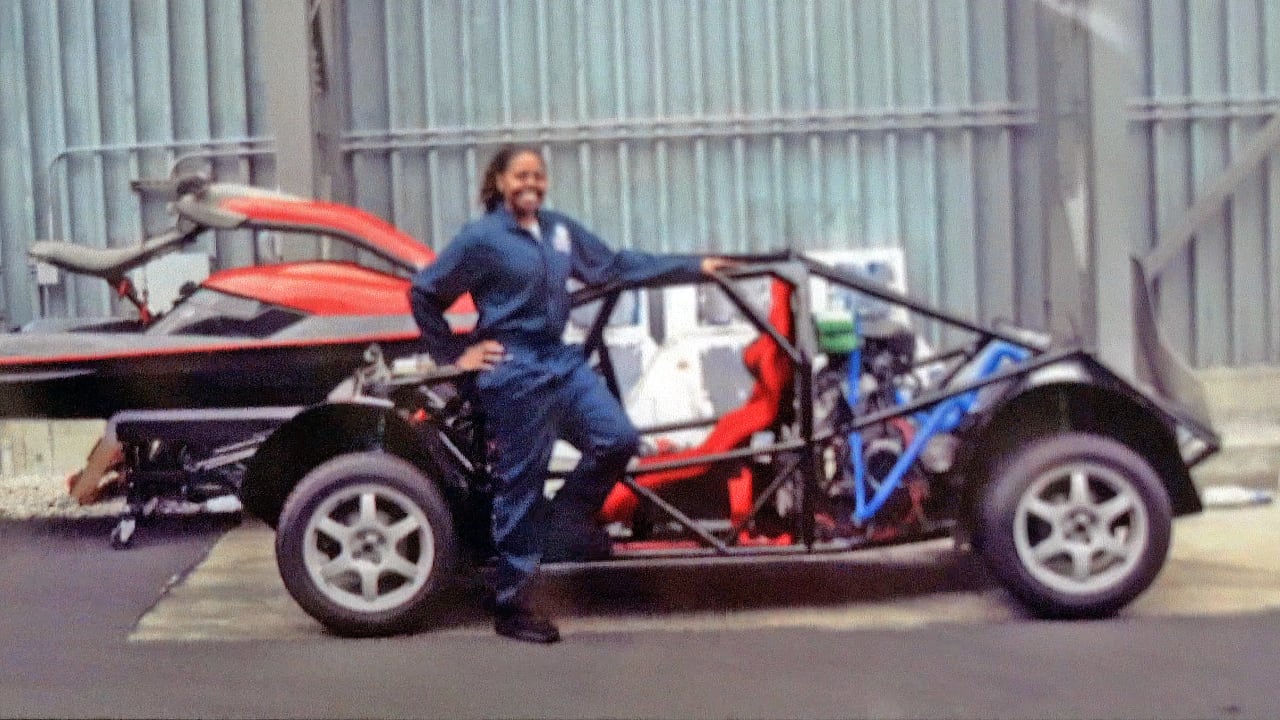 After graduating in 2007, she served as an apprentice mechanic at "Lights, Motors, Action!: Extreme Stunt Show" at Disney's Hollywood Studios. She and another mechanic had the opportunity to build one of the stunt cars from scratch. "This was the definition of a hands-on experience," she says. "We had to put the engine in, put the brakes in, install the differential. That's when I learned about tolerances. It's one thing to work on a computer and design parts to fit; it's another thing in the real world, to make sure your hand can reach in to turn the wrench!"
She continued to bounce around several different departments at Disney, looking for the right fit. "My career has kind of been like Chutes and Ladders," she says. "At times, I seem to be climbing the ladder, but then there are setbacks. All the different positions I've had at Disney were opportunities for me to learn, which eventually led me here to Animal Kingdom."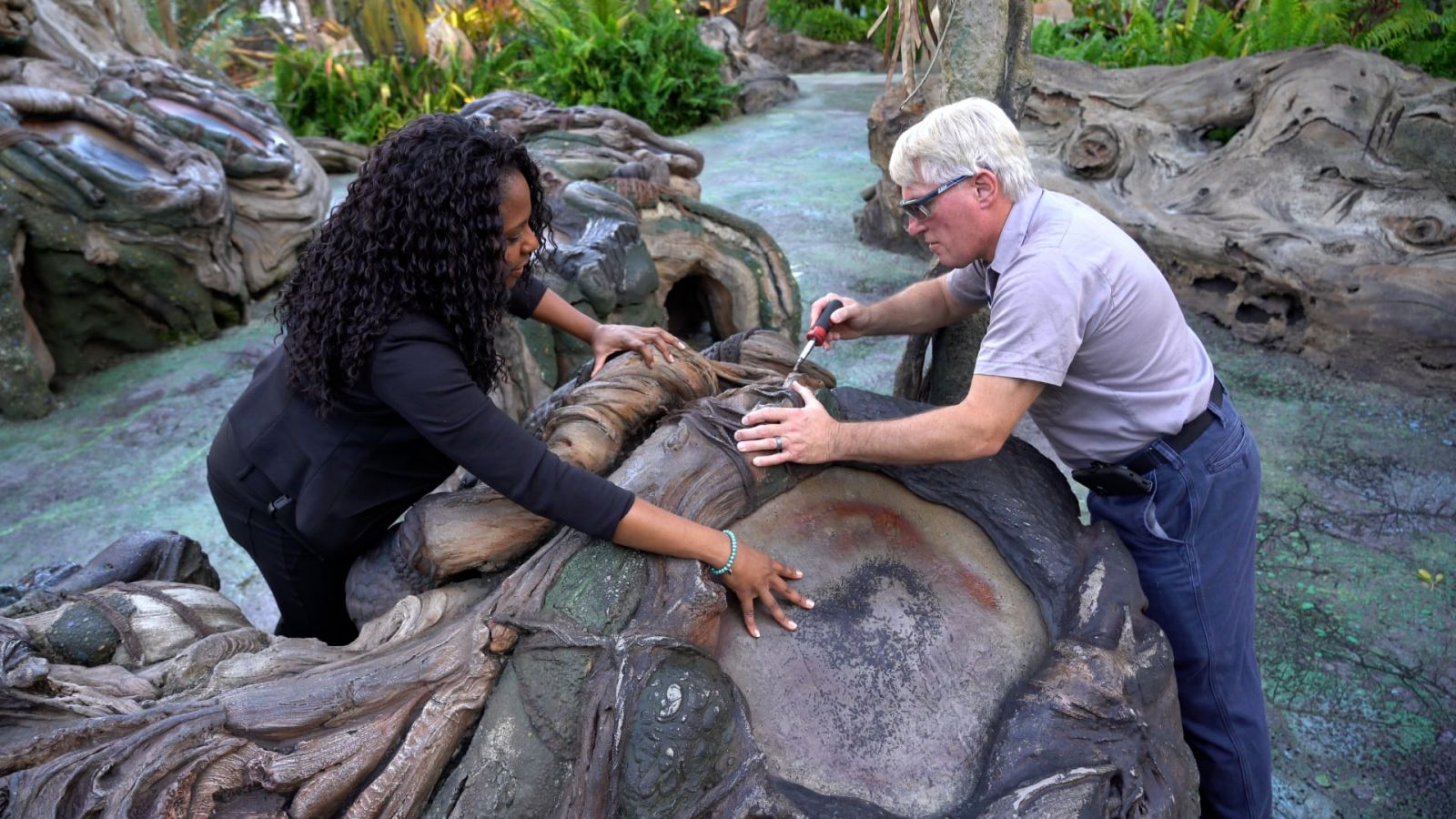 Magical Connections

"Feel the breathing?" she asks.
We're on "Avatar: Flight of Passage," the marquee attraction of Animal Kingdom Theme Park. Each guest straddles a vehicle that looks like a motorcycle, which eventually becomes a flying banshee creature, swooping through a dramatic landscape of twists and turns — thanks to motion-controlled platforms and an enormous 3D screen.
But the breathing? That's uniquely Disney. Each guest's ride vehicle has inflatable bladders that gently inflate and deflate every few seconds. You don't see it, but you feel it with your legs. Coordinated with the sound effects and the action on-screen, you get the immersive experience that you're actually mounted on a living creature.
Of course, there's more to "Avatar: Flight of Passage" than just the ride. In the pre-show queue, guests weave their way through a fictional laboratory, with exotic creatures squirming under microscopes, vibrating egg incubators and a nine-foot-tall Na'vi in an amniotic tank. All of it — the motion, the videos, the sounds, the lights, the effects — must be in perfect working order every day for every guest.
No wonder she walks fast!
"It's organized chaos," she laughs. "We get a lot thrown at us every day, and a lot of problems we need to solve. Guests come here because they want an experience; they want to encounter a new world, and we give them that opportunity."
This is where Price's right-brain and left-brain backgrounds converge. With her art and theater experience, she can keep a keen eye out for anything that distracts from the magical vision put forth by Disney. And with her technical background, she can figure out exactly how to repair it and make it right. "The Imagineers gave us this incredible gift," she says, referring to the design and aesthetics of their attractions. "We have to maintain it, right down to the smallest detail."
To accomplish this, Price manages a team of more than 90 people (Disney calls them all "cast members") working 24 hours a day: mechanics, ride show technicians, computer experts, and workers on the less glamorous but still vital HVAC and electrical systems of the building. "I have a fantastic team, and every single one of them is amazingly talented," she says. "It's not just the show, but it's also the preventive maintenance to ensure the rides are safe for every guest that comes into the park."
Another challenge? Transitioning from managing things to managing people. "Becoming a leader has been its own process," Price says. "I went from an individual contributor to someone who needs to inspire a team of people. I give them what they need, so they can do the job they need to do. That's why I'm so big on mentoring. Many people came alongside me and helped guide me in my early career. So when I mentor people, I make sure that they pay it forward and mentor the next generation. We can't be at our best unless we're all there together."
Ready for Anything

Angel Price has faced many challenges in her career. Working in a technical field, she has often found herself as the only one in the room who looks like her. But rather than shrinking from those challenges, she embraced them. "I recently heard someone say that you need to turn your obstacles into an obstacle course," says Price.
Her education at Purdue was a big part of that. "Everyone says Purdue is hard, and they throw a lot at you," she says. "Well guess what? When you get in the real world, they throw even more at you, and you've got to deliver! So Purdue prepped me to be agile and to tackle any challenge. Even though I changed courses midstream, Purdue gave me the option to do so. They taught me how to take in complex information, interpret it properly, and solve problems quickly."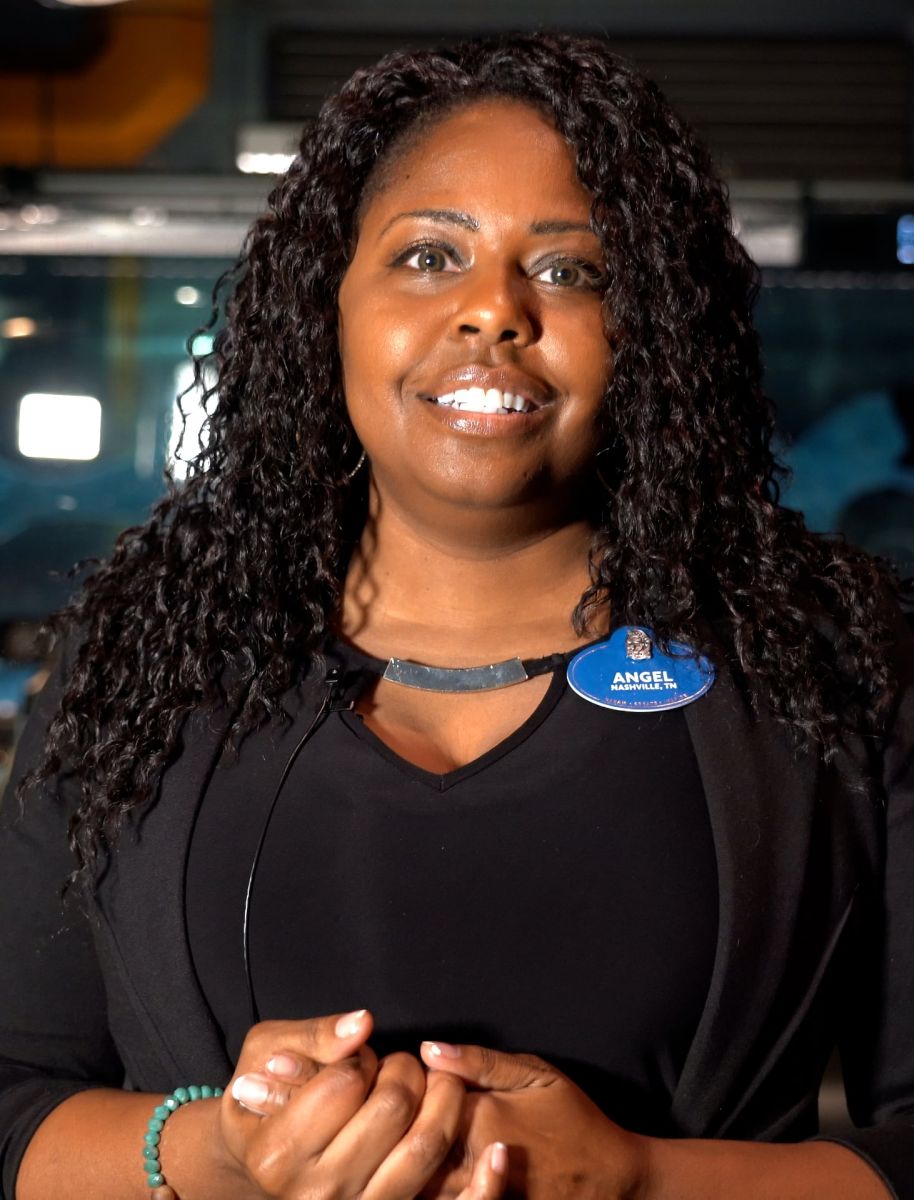 We're in Price's office, which is hidden down a hallway from the ride queue for "Avatar: Flight of Passage." As flying banshees shake the walls just one room over, we look through a precious artifact: a scrapbook Price kept from the beginning of her Purdue journey in 2003. It includes early sketches from her time in Liberal Arts and makeup she designed for a theater production. It also includes website printouts of animatronic companies she might want to work for.
The final page of the scrapbook? Her plane ticket to Orlando.
"You'll always have people telling what you should do or what you need to do," Price explains. "But you need to challenge yourself to figure out what you want to do. For me, I had to write down all the things I was good at, and then work out my next step from there. I wanted to work in special effects, but my path to get there was not a straight line. Make sure you're open to options. Eventually, you'll find what you're looking for."
One subtle signal of Price's success at Disney is her blue nametag. This rare privilege reflects her recently receiving the Walt Disney Legacy Award, the highest honor given to a Disney Parks cast member. It celebrates her dedication to the Disney pillars of "dream - create - inspire," as well as her impact on fellow cast members, who nominated Price for the award.
At the end of the day, Price enjoys a unique brand of job satisfaction that's tough to find anywhere else. "I have rough days just like anyone," she says. "Sometimes I wonder, 'Why am I doing this? Why am I losing sleep over this issue?' All it takes is just standing at the exit queue of these attractions and seeing families with big smiles on their faces. Hearing people say, 'That was the best ride I've ever been on in my life!' does it for me. I came here to make other people happy, and I see it every day!"
Additional information