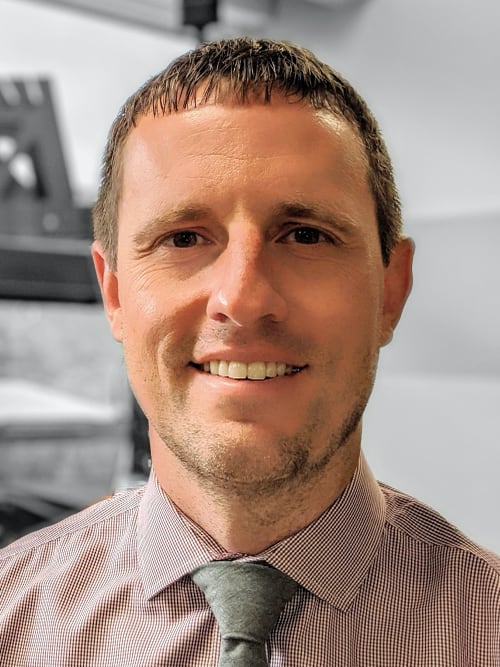 Purdue Polytechnic's Rustin Webster has been recognized by the American Society for Engineering Education (ASEE) and Purdue University for excellence in the classroom.
Webster, associate professor of engineering technology at Purdue Polytechnic New Albany, was chosen to receive the 2021 ASEE National Engineering Technology Teaching Award. It's the first time a Purdue Polytechnic professor has been selected.
The ASEE's National Engineering Technology Teaching Award recognizes leaders who have demonstrated enhanced student learning experiences that enabled students to excel. The award recognizes individual achievement in innovative teaching in engineering technology and/or applied engineering education, contributions to the scholarship of teaching, and participation in and service to engineering technology education at the regional and national level.
Webster also was selected as a 2021-2022 Purdue Teaching for Tomorrow Award recipient from Purdue's Center for Instructional Excellence. Each year, the award recognizes up to 12 assistant professors (or recently promoted associate professors) for demonstrated talent for teaching, as well as three senior faculty members for long-term contributions to teaching and mentoring at the University. The faculty development program aims to improve the learning environment for Purdue students and to enhance faculty teaching skills to meet students' needs.
Additionally, Webster was selected by Purdue's Teaching Academy and Office of the Provost as a recipient of the Award for Exceptional Teaching and Instructional Support during the COVID-19 Pandemic. Individuals and teams of faculty, instructors, staff and graduate students from across the University were celebrated for creative teaching using multiple technologies, support and mentoring for new instructional adaptations, innovative teaching in special contexts, and safe and productive engagement and support of students during the pandemic.

Prior to joining Purdue's faculty, Webster gained nearly 10 years of industry experience. He worked for Intuitive Research and Technology Corporation, an aerospace and engineering company based in Huntsville, Ala., as a mechanical engineer, product development lead and researcher. He also designed various solutions for multiple branches of the Armed Forces, the Department of Defense and the National Aeronautics and Space Administration.
"Working at Intuitive Research and Technology gave me the opportunity to grow as an engineer and as a leader," said Webster. "I have also worked with some amazing professors and researchers along the way who have provided mentorship and friendship. Receiving these awards is a trio of blessings."
Webster specializes in mechanical engineering technology and computer graphics technology. He earned degrees in engineering graphics and design and management of technology at Murray State University before earning a PhD in interdisciplinary engineering at the University of Alabama at Birmingham.
Additional information