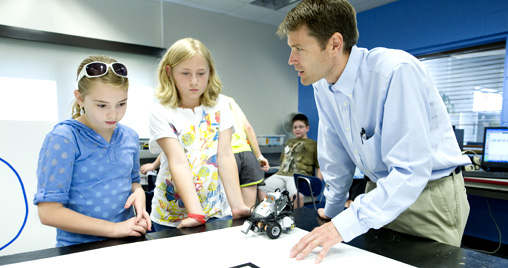 Purdue University's engineering/technology teacher education program within the College of Technology was named the nation's outstanding program in 2012 by the Association for Career and Technical Education (ACTE).
It is the fifth time the program has received the Outstanding Technology Education Program award from ACTE's Engineering and Technology Education Division. Recipients are determined as a result of input received from their nomination form, self-evaluation, peer evaluation and letters of support.
The engineering/technology teacher education program at Purdue focuses on a hands-on, engineering design-based approach to teaching and learning to prepare engineering/technology teachers for middle and high schools.
The program covers a wide range of engineering and technology related topics, including engineering design, innovation, computer integrated manufacturing, electricity and electronics and rapid prototyping.
Graduates of the program are also certified to teach various Project Lead the Way courses.