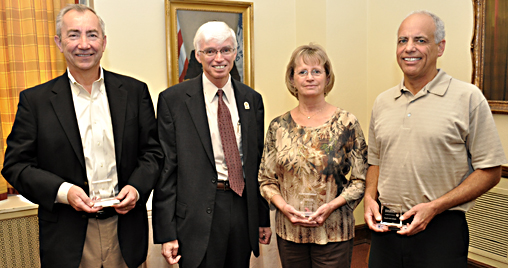 Four College of Technology faculty and staff were recognized by Dean Gary Bertoline Sept. 21 as the most recent recipients of the Good to Great award.
The September winners were the staff members of the Center for Professional Studies in Technology and Applied Research (ProSTAR) for their work in increasing the number of degree programs offered and the amount of revenue generated.
Recipients were:
Rick Doan, program manager
Larry Fischer, program manager
Mark Schuver, director of professional education.
Vanna Skipper, administrative coordinator
Recipients of the Good to Great Award are involved with endeavors that improve the college's public image, show a commitment to excellence and demonstrate impact.
(Photo, from left: Schuver, Bertoline, Skipper and Fischer.)