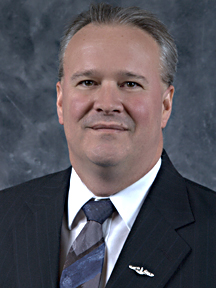 Jeffrey A. Griffin has been appointed director of Purdue University's College of Technology at Kokomo. He will oversee operations at the location, which offers Purdue degrees on the IU-Kokomo campus.
"I am committed to the mission of Purdue College of Technology at Kokomo to meet Indiana's need for an educated workforce with technical and supervisory skills in STEM disciplines," Griffin said. "With the economic growth in Kokomo steadily improving as evidenced by the recent Chrysler announcement, we also need to continue to encourage the culture of entrepreneurship to sustain this growth. Students need to see that they can earn their degree locally and not have to leave central Indiana to find work."
Prior to his appointment, he served the Kokomo location as interim director and associate professor of computer and information technology. Griffin joined the College of Technology as an adjunct faculty member in 1994 while working as a systems engineer at EDS. He was hired full-time by Purdue in 1997 and has also taught for the college in South Bend and West Lafayette.
Griffin earned his bachelor's degree from Southern Illinois University and his master's degree at Webster University. He is also a veteran of the Submarine Service of the United States Navy, serving on ballistic missile submarines.
"I am looking forward to working with the entire spectrum of education providers in the region, including K-12 corporations, Ivy Tech Community College, and our hosts, Interim Chancellor Susan Sciame-Giesecke and Indiana University Kokomo," Griffin said. "It is an exciting time for the region as businesses and education come together to create the high-tech work force of the future."
The Purdue College of Technology at Kokomo, as part of Purdue's presence around the state, focuses on offering technology education in the North Central Indiana area. It offers degrees in computer and information technology, engineering technology, mechanical engineering technology and organizational leadership on the campus of Indiana University-Kokomo.