Purdue Polytechnic High School

Purdue Polytechnic High School Indianapolis is the first of its kind: a university-aligned, non-traditional urban high school that:
Uses design challenges and projects as a framework for learning.
Places extra attention on science, technology, engineering and math.
Builds the skills necessary to succeed in an evolving workforce.
Creates a pathway for under-served and under-represented students to continue their education at Purdue University.
Graduates of the high school program who meet admission criteria for the Purdue Polytechnic Institute will be admitted directly to the college, getting a jump-start toward building successful futures.
This is not your parent's high school

No bells tell students when to move from one traditional class to the next; instead, students manage their own schedules and work in teams to solve six different design challenges throughout the academic year. Students learn math, science and other traditional subjects in the context of the design challenge, and they learn how to become a contributing team member along the way.

How does a design challenge work? Industry partners submit broad challenges, and students can narrow their focus to provide one specific solution to the challenge. For a challenge about feeding the world's population in the future, for example, students might study the historical context and potential impact of population growth, and they learn linear equations to predict the number of people who need to be fed. One student team could focus on reduction of food waste while another team looks for ways to use fewer resources to create protein-rich foods. At the end of each six-week design challenge, student teams present their solutions to a panel of teachers, and the team with the best solution gets to pitch it to industry partners.
The high school welcomed its first ninth-grade class in the fall of 2017. After one academic year, students have adapted to the unique education format of Purdue Polytechnic High School.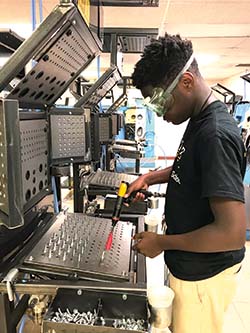 "Most of these students went to a traditional middle school, complete with a bell schedule, so we guide them through the process until they can manage it on their own," said Scott Bess, head of Purdue Polytechnic High School. "Students quickly learn how to manage their time and seek out resources when they need them – just like adults in the workplace."
The bottom line, according to Bess, is this: In order to succeed tomorrow, our students need a different kind of education than the one found in traditional schools.
"The idea that everyone follows the same track, and learns in the same way, is a disservice," said Bess. "Someone had to do something different."
What's next?

Plans for a second location in Indianapolis in 2019 are under way, and the Polytechnic Institute is considering options to open more high schools around the state over the next few years.
A day in the life of a future Techie

At Purdue Polytechnic High School, students in grades 9-12 use design challenges and academic workshops that prepare them for success in college and in their future careers. Here's a look at a day in the life of these "future Techies."
Start the day in your personal learning community, where you check in with your coach to make sure you have your schedule in place. Are you making progress? Do you have any issues? Your coach helps you figure out your next steps.
Attend workshops throughout the day. Here, you apply concepts – math, science, design, writing and more – to the current design challenge.
Schedule time in an academic dojo, where you'll learn a specific skill or concept that you'll need to tackle the design challenge in your workshops. For complex concepts, you may also attend a learning lab to improve your understanding of the work you need to accomplish.
Use your daily personal learning time for self-directed work on your challenge, and spend time with your team developing a detailed solution to the design challenge.
Craft your presentation to industry representatives, where you and your team pitch your solution to industry leaders from around the state.