During a recent cold snap in Indiana, Scott Massey was at an area hardware store buying a significant supply of seeds. The incredulous cashier questioned his purchase since most home gardeners won't start buying their garden seeds for a few more months.
Those home gardeners, however, don't have access to Massey's kitchen-ready, hydroponic garden – yet. After a successful semester of pitch competitions, Hydro Grow LLC could soon become a more well-known, student startup. The team -- Massey, CEO and a senior majoring in mechanical engineering technology; Ivan Ball, a senior majoring in electrical engineering technology; and Jimmy Carlson, a sophomore majoring in computer science -- now has $35,000 to work with to refine their product and make it ready for consumers.
The money has come from three competitions: $25,000 from Purdue Ag-celerator, the plant sciences innovation fund operated by Purdue Ventures; the $5,000 first prize from the Schurz Innovation Challenge at Purdue University, and the $5,000 first prize from the Innovation Connector Big Idea Pitch in Muncie, Indiana.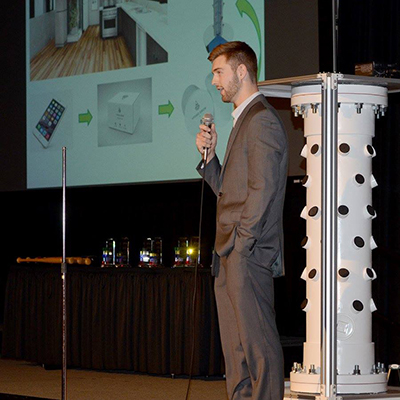 Massey and Ball met as undergraduate researchers for Purdue's NASA Specialized Center of Research and Training in Advanced Life Support. They assisted the center's director, Cary Mitchell, professor of horticulture, on a project aimed at creating a hydroponic system for future space colonies.
As they worked on the project, Massey began thinking about how the same approach could be used in a regular kitchen on earth. Over the summer while he worked at an internship in El Paso, Texas, Massey started creating concept drawings for the home appliance. Blueprints and a CAD model followed. He then recruited Ball and Carlson to assist in creating the system and its related business.
The team is developing an artificial intelligence system to regulate their appliance. Light exposure, temperature, humidity, and pH will all be regulated based on the types of plants being grown. The system has been tested with basil, lettuce, spinach and cayenne peppers so far.
"We are predicting we can grow plants 2-3 times faster than traditional gardening," Massey said. "We are keeping the nutrients where they need to be and we're able to control humidity. Humidity is great for plants."
The rate of growth is only one reason why Massey believes the public is ready for his invention. The current drought in California, which grows two-thirds of the nation's produce, is affecting all kinds of crops. In addition, consumers routinely throw away up to 40 percent of the produce they purchase. Finally, the number of fights over land could be diminished if more people grew their food inside.
"Sustainability is the only reliable security we could have," Massey said.
Ball added even more reasons.
"With a growing world population, we're going to run out of space for growing food," he said. "People in cities can grow food in their homes, and they don't have to import all of it."
The Hydro Grow is initially targeted to consumers who seek out organic produce, especially upper-middleclass shoppers and urban dwellers. At first, the team knows, the Hyrdo Grow will be considered a luxury product.
That product is getting a facelift this spring as the team works on its second-generation model. They want to find more cost-effective materials and improve its overall appearance. They will do their work in the Anvil at Purdue University, a maker space especially for students. Their workspace includes a drill press, band and miter saws, sanders, and 3D printers maintained by Purdue Polytechnic's Boilermaker Lab.
When they aren't in class or working on the prototype, they will be meeting with venture capitalists and taking their concept to more pitch competitions from Oregon to Rhode Island. They hope to move into mass production some time in 2017.
Massey and Ball agree their Polytechnic majors have been extremely beneficial throughout the process.
"I came in knowing how to manufacture things, and we knew who to ask for help," Massey said. "I owe every skill I've used to my major. Whenever I reached a challenge, I could identify what process needed to be done. I can make blueprints. And I've needed the technical communication skills that I didn't have before."
Ball said his classes on microcontrollers and power distribution have been the most helpful.
"That was big, knowing which components to put into it and how to be efficient with them. Once you understand it – it pieces itself together," he said.
As the business plan grows, Massey is looking for people to join the team and to invest. Inquiries can be sent to him via email at hydrogrow.site@gmail.com.