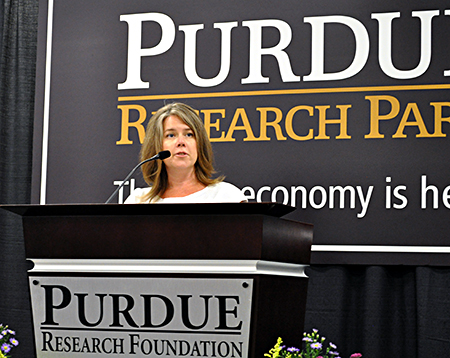 Purdue University celebrated the completion of a new collaborative research facility with a ribbon cutting July 26.
The Indiana Manufacturing Institute (IMI) is Purdue's headquarters for its role in the national Institute for Advanced Composites Manufacturing Innovation (IACMI). The University of Tennessee in Knoxville is the lead institution in the collaboration that includes public and private agencies in Indiana, Illinois, Kentucky, Michigan, Ohio, Tennessee and Colorado.
Two Purdue Polytechnic Institute professors – Nathan Hartman and Ron Sterkenburg -- are part of the team conducting research at the new facility.
In fact, Hartman, professor of computer graphics technology, has moved the main office and lab for his Product Lifecycle Management Center (PLM) to the new building, located near Kalberer and Yeager Roads in West Lafayette, Indiana.
"Any research that I do as part of the PLM Center will now be done out there," Hartman said. Several other of his research projects that deal with digital manufacturing and design and model-based definition will also be worked on at the IMI. That includes his work for the Digital Manufacturing and Design Innovation Institute, a federally-funded research and development organization of UI LABS, which includes Purdue as a partner.
Sterkenburg, professor of aviation technology, will use the IMI for his lab-based composites courses. He and his graduate students also will conduct composites research as part of the IACMI. They will focus on creating and testing carbon fiber composites for use in the automotive industry to make vehicles lighter and stronger.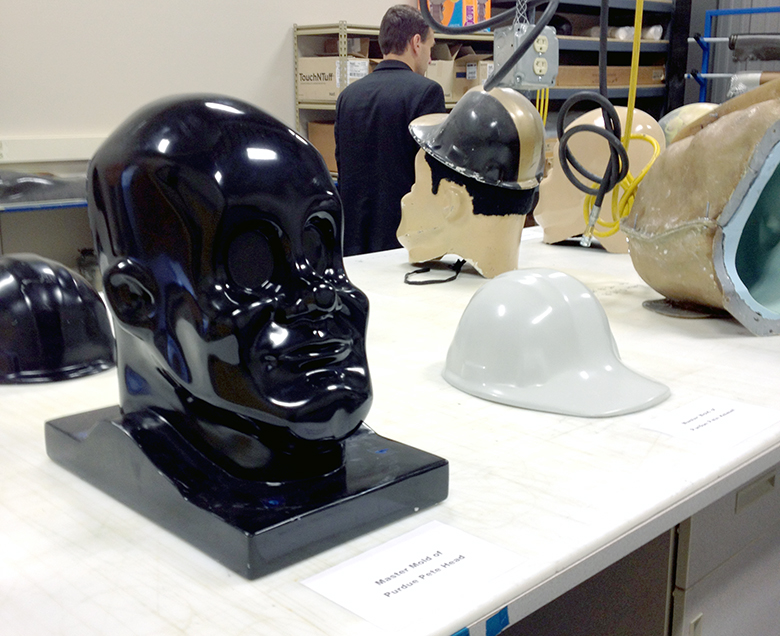 Both professors are excited about the collaborative nature of the facility.
"The great thing here is that we are working together with professors in the College of Engineering. We are helping each other," Sterkenburg said. "That makes these projects more efficient, and it helps us all understand the whole process, from conceptual to testing to manufacturing. Companies couldn't see everything the University had to offer before."
That continuum of knowledge is beneficial to students (who will soon be working in similar environments), to the industry partners impacted by the research, and to faculty researchers who may have been working independently before.
In addition, the facility allows researchers to offer more ways to demonstrate new processes and technologies.
"We have a facility that has production capabilities and research that relates to virtual and physical products. The facility will allow us to host seminars and workshops related to manufacturing," Hartman said. "We can also demonstrate -- or they can test – new or emerging technologies and processes. Small and medium manufacturers don't often have the capability to do that in their present factories or facilities."
The Indiana Next Generation Manufacturing Competitiveness Center (IN-MaC) is also located at IMI. Hartman is a member of the executive committee and its research team.
Read more:
--
Remarks by Carrie Berger, associate dean for research, during the ribbon cutting ceremony
The Purdue Polytechnic Institute is honored to be a partner in the creation, launch, and future success of the Indiana Manufacturing Institute. Specifically, we would like to thank Byron Pipes for his leadership, the Department of Energy and University of Tennessee, Knoxville, for the opportunity to participate in the Institute for Advanced Composite Manufacturing Institute, the launching project at the IMI, a place where industry, university research, and economic development come together.
The Purdue Polytechnic Institute works hard to match industry needs with faculty strengths and provide students with unique educational opportunities. One of our strategic goals is to provide our students with skills, knowledge and experiences for a 21st century education, and this initiative will support that endeavor. Purdue is a leader in manufacturing due in large part to its educational resources and cutting edge research. Research and collaboration spaces such as these where faculty and students from different colleges can work together are crucial to Indiana expanding its capabilities and employment opportunities.
The IMI provides a physical place, a front door of sorts, to Manufacturing at Purdue represented by Purdue's composites research program, Product Lifecycle Management program, and In-MaC, Indiana's Next Generation Manufacturing Competitiveness Center, and with the opportunity for industry to co-locate. Companies know exactly where to look when they need the best partners and solutions in these areas: the IMI. On behalf of Dean Gary Bertoline, Polytechnic faculty, staff, and students, I would like to express our gratitude to everyone who had a hand in making this facility a reality. Thank you.