Studio provides access to Industry 4.0 technologies to explore the next generation of manufacturing
WEST LAFAYETTE, IND., DEC. 19, 2019 – On Thursday, December 12, 2019, the doors opened at the Indiana Next Generation Manufacturing Competitiveness Center (IN-MaC) Design and Innovation Studio. The studio provides opportunities for schools, educators, students and industry innovators to discover new ways to explore design thinking, problem-solving, technology and creative skill sets.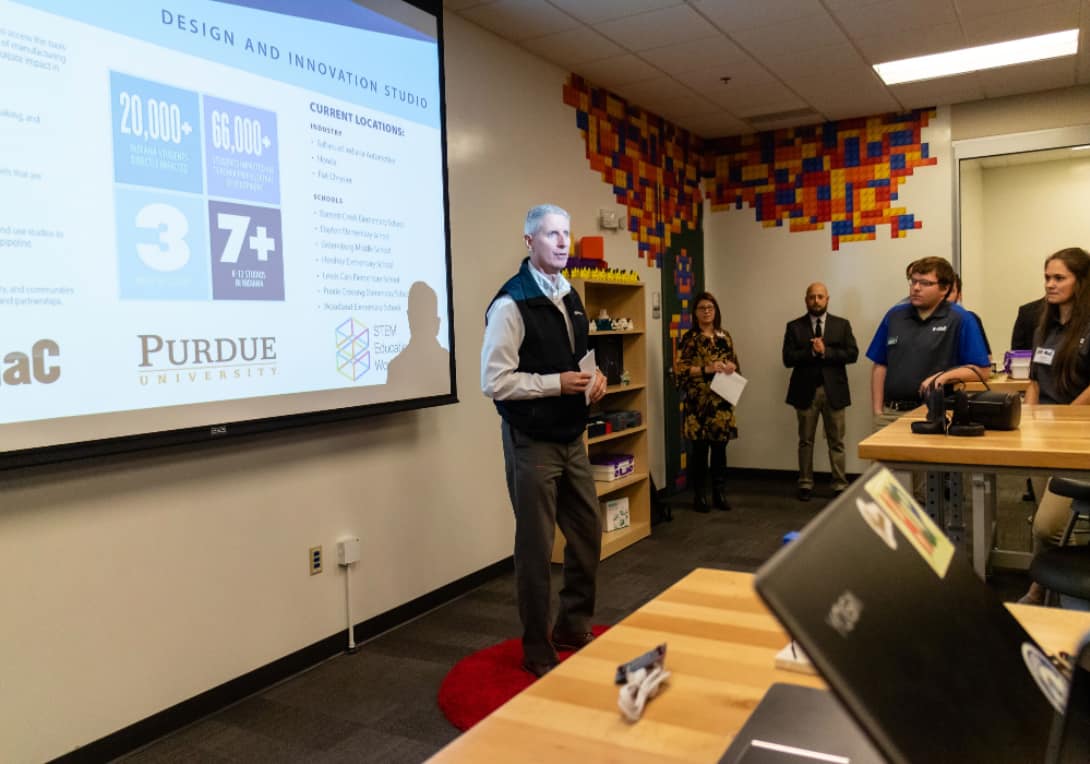 Located at the Indiana Manufacturing Institute (IMI) in West Lafayette, this studio is the latest design and innovation studio implemented in Indiana through a partnership between IN-MaC, Purdue University's Polytechnic Institute and STEM Education Works. The multidisciplinary studio provides hands-on experience with additive manufacturing, robotics and coding, as well as engineering and science learning modules. It also provides access to virtual reality, and curriculum.
"Manufacturing continues to be a key driver in Indiana workforce needs," said Sascha Harrell, education and workforce director of IN-MaC. "It isn't enough to provide studios for students and workers to explore. We must create models and contexts for digital know-how, complex problem solving, creativity, and entrepreneurship."
The unique aspect of the studio is to create an ecosystem for educators, students and industry to create meaningful learning experiences and collaborative partnerships focused on Industry 4.0 and manufacturing career pathways. Allowing access to tools and technology to explore the next generation of manufacturing and become leaders who use knowledge to create impact in the talent pipeline.
"This provides students with relevant and realistic experiences that will help to cultivate technical competencies, which seemed to have faded from classrooms, along with new digital abilities, employability skills, and awareness of career pathways at a young age where career perceptions are formed and new ways of thinking can be fostered," said Greg Strimel, assistant professor of engineering/technology teacher education in Purdue Polytechnic.
Currently there are nine studios located at schools and industries throughout Indiana. The studios are designed to foster a new generation of digital technology leaders by providing access, experiences, networking, and growth opportunities that prepares educators, students and incumbent workers for industry pathways and the future of work. More studios are scheduled to open in 2020.
"Elementary schools across Indiana are bringing the studio vision to life. They are actively using the space and the technologies," said Christine Mills, managing director of STEM Education Works. "Teachers within their schools have become champions for the concept. The students have jumped right into the curriculum and it's a real joy to see them designing, problem solving and producing projects."
To learn more about IN-MaC's Design and Innovation Studios, or to schedule a tour, contact Sascha Harrell at smharrel@purdue.edu.
# # #
Contact:
Sascha Harrell
Director, Education and Workforce Development
Indiana Next Generation Manufacturing Competitiveness Center (IN-MaC)
smharrel@purdue.edu
765-494-2278
About IN-MaC:

IN-MaC provides programs and services to enhance the talents and capabilities of Indiana's present and future workforce by facilitating connections between educators and industry to catalyze the formation of near-term and long-term skills in a highly accessible manner across Indiana. IN-MaC supports a variety of STEM-type, skilled trades, degree (associates and undergraduate) and certificate programs.
IN-MaC leverages its resources, networks and partnerships with industry, local communities, educators and interested stakeholders to provide a variety of formal courses and informal activities that embolden pathways to meet the talent needs of the present and future manufacturing workforce.
About the Purdue Polytechnic Institute:

The Purdue Polytechnic Institute is one of 10 academic colleges at Purdue University, offering undergraduate and graduate degrees in a wide range of disciplines: aviation, computing, construction management, engineering technology, technology leadership, and technology education. In addition to Purdue University's main campus in West Lafayette, Indiana, Purdue Polytechnic offers select degree programs in nine Indiana communities.