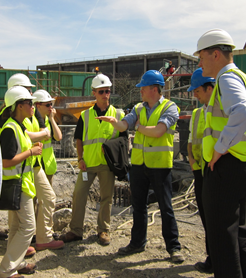 James Jenkins, associate professor of building construction management, will lead the 2013 International Construction Management Study Abroad experience to Ireland in May. He has offered study abroad courses to Ireland since 2009, and he also participated in a faculty exchange with the Dublin Institute of Technology (DIT) during Fall 2009.
This study abroad course focuses on the construction industry of Ireland. Students will tour new construction and historic renovation sites in Dublin, Cork, Limerick and Galway. Participants will attend lectures and presentations by faculty from DIT and the National Institute of Ireland-Galway and from construction site personnel.
The experience includes several cultural visits, as well, including St. Patrick's Cathedral, the Guinness Brewery, Christ Church Cathedral, Bunratty Castle and Folk Park, Cliffs of Moher, and kissing the Blarney Stone. They will round out the trip with a bike tour of the Aran Islands and visits to the city of Cobh (last port of call for the Titanic) and the fishing village of Howth.