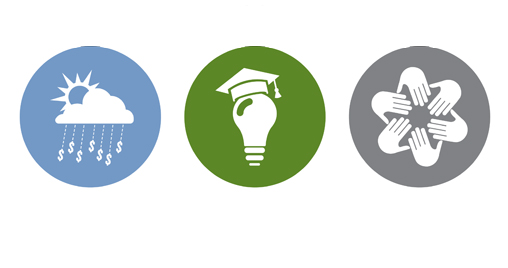 Chances are you've heard the question, "what is the College of Technology?" Over its 49-year history, it has been many things, depending on industry needs of the time and on the vision of the administration. Maybe you have your answer ready to go. Maybe you have a hard time putting it into succinct descriptions that make sense to others.
As the college is poised to celebrate its 50th anniversary, this issue of Innovation magazine takes a deeper look at the College of Technology through one specific lens: jobs. There is no succinct definition here. Instead, it is an examination of three areas:
Career Outlooks: Job trends are specific to careers and industry needs at a given moment. We often look at the 4.5 percent unemployment rate from 2007 and wax nostalgic. We compare it to today's much higher rate and wonder where college graduates will go. But the College of Technology and its graduates have weathered the storm and continue to post higher-than-average job offers for graduating students. (Read the story.)
Defined by our outcomes: The careers of technology graduates can help place the discipline in context, from starting salaries to job titles, and from job-specific competence to transferable skills. We can learn a lot from the successes of our alumni, and so can those who are confused about what we offer (Read the story.).
Understanding our worth: With degrees that span a variety of industries – aviation, construction, manufacturing, graphics – the College of Technology prepares graduates to share their expertise across the workforce spectrum. There are certain instances, however, when the size of an employer meshes with the strengths of the college so well that the employer can use the talents of more than one type of graduate from the college. Rolls-Royce is one such employer. Over the years, they have hired graduates from nearly all of the Technology programs in their efforts to shape the future. (Read the story.)
Conclusion

The past decade has seen a steady drumbeat from a multitude of experts – we need more college graduates in the STEM disciplines: science, technology, engineering and math. It was pushed further with President Obama's challenge to educate and subsequently employ thousands of engineers. Entire conferences are planned around improving STEM education and getting younger students interested in the concepts and potential. Countless research projects have been funded to help educators figure out the strategies that work best in attracting a student to STEM areas. It's a big problem with several possible solutions.
Jobs and careers are a very tangible way to examine the issue. We could just as easily have examined how STEM subjects are taught, how the information is retained, or how entrepreneurs can help fill the skills gap. The College of Technology has made educating the 21st century technologist its main objective. To have the most impact with this goal, we need more students. We need a vibrant and dynamic curriculum that can adapt to change. And we need a sense of where our graduates will use their skills to help make the cycle complete.
We welcome your input on the subject. Share your ideas and perspectives about improving and stabilizing both STEM education and a STEM workforce in the comments section below or in the individual stories in this edition of Innovation.