The Universidad Nacional de San Agustin (UNSA) recognized Daniel Leon-Salas, associate professor of engineering technology in Purdue Polytechnic's School of Engineering Technology, for his contribution to the development of knowledge and serving as a "distinguished example" of UNSA's graduates.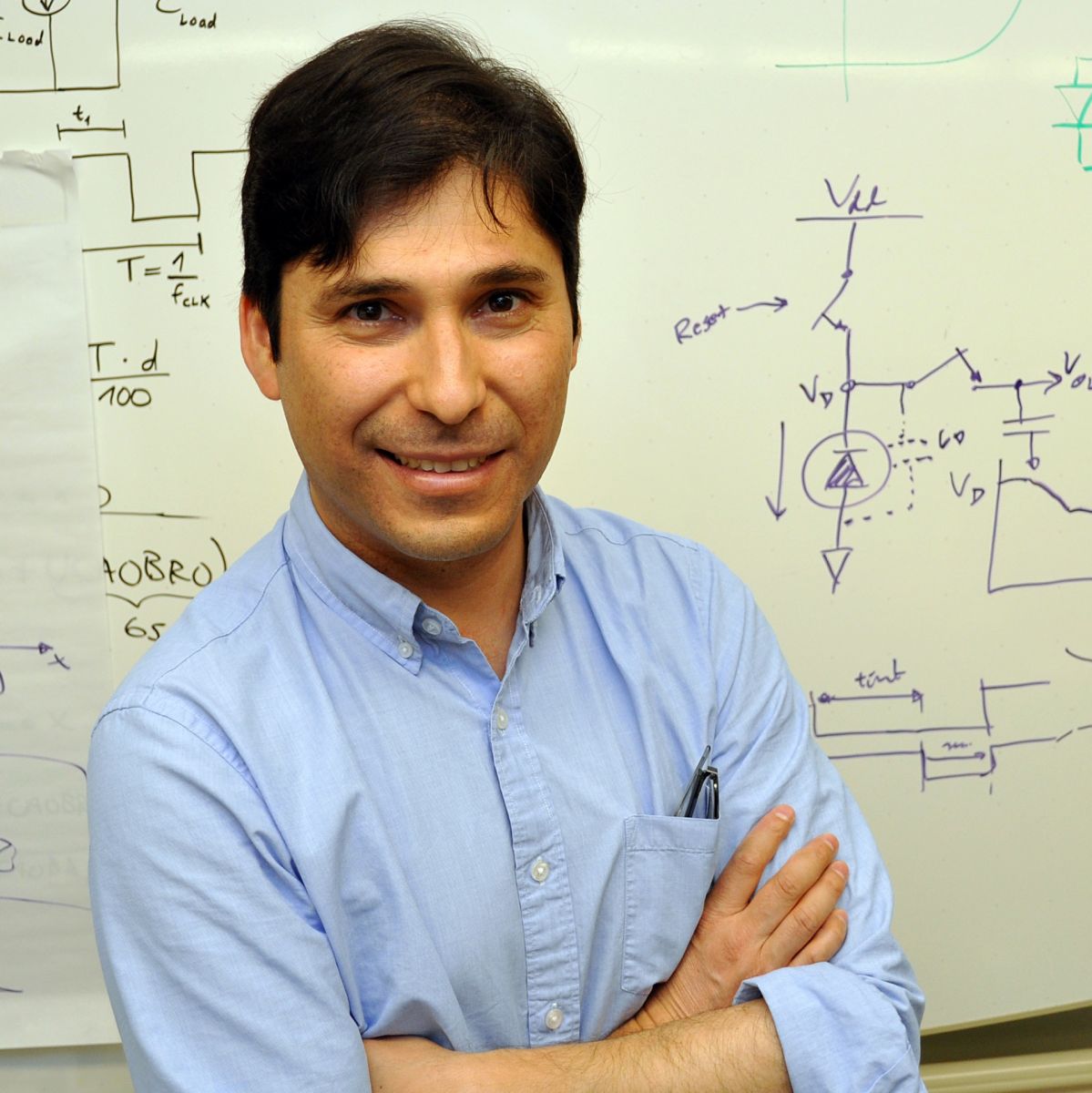 A delegation of Purdue faculty and administrators, including Leon-Salas, traveled to Arequipa, Peru, to discuss collaborating with UNSA on challenges facing Peru and Latin America related to land, water, food, infrastructure, and technology. On the last day of the delegation's visit, university leaders surprised Leon-Salas, a Peru native and UNSA graduate, with the recognition. He provided this translation:
National University of Saint Augustine (UNSA)
College of Production & Services
Recognition given to Daniel Leon-Salas, Ph.D.
For his distinguished scientific and academic career, his contribution to the development of knowledge, elevating the reputation of UNSA as a distinguished example of the Professional School of Electronic Engineering.
"People from UNSA had come here first, and they invited Purdue's Discovery Park team to travel there to get the collaboration going," Leon-Salas said. "They didn't know that a Peruvian from their university was here at Purdue. I met them through Robert Cox."
Cox, senior associate dean for globalization and professor of construction management, was aware of Leon-Salas' connection to UNSA and suggested that he get involved in the collaboration. UNSA's representatives greeted Leon-Salas warmly, asked a lot of questions, and invited him to join the delegation, he said.
For the collaboration between Discovery Park and UNSA, Purdue will provide guidance and expertise in the development of the UNSA Technology Park and the Nexus Institute, an interdisciplinary institute which will focus on the interplay among four intersecting strategic themes: water management, environment, agriculture, and mining.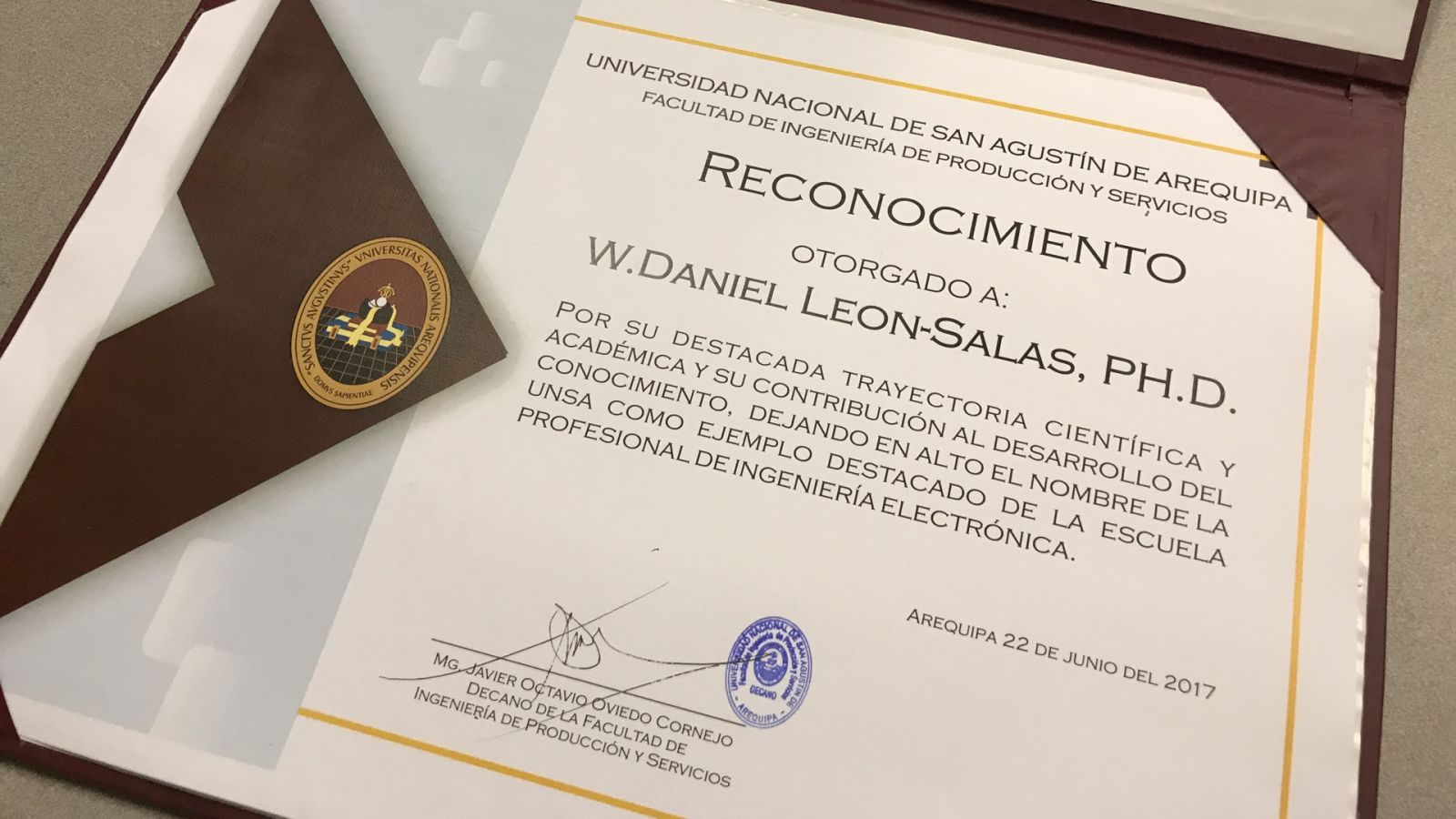 Individual research projects will need electronics, sensors, circuits, and power systems. Leon-Salas, who majored at UNSA in electronic engineering, an electrical engineering discipline, will develop electronic sensing communication systems which will be deployed at environmental stations in Arequipa to measure water, soil, and air quality.
Leon-Salas will also coordinate communication between researchers at Purdue and UNSA.
"Because I'm from there, I can talk with research colleagues about the region's needs and culture," he said. "When there's something we don't know, I'll serve as a link between people at Purdue and UNSA."
Leon-Salas' fascination with engineering and technology began as a child when he took apart toys to see what was inside and to try to put them back together. It continued when his parents bought him a home computer.
Family members worked for a mining company. "My school would take us to see its operations," he said. "It was loud, noisy, and dirty, but it had really big machines, and I was in heaven."
Additional information:
Discovery Park partnership bolsters innovation ecosystem in Peru (Purdue News Service)