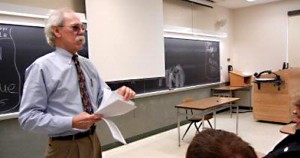 Daniel L. Lybrook not only was instrumental in creating our Weekend Master of Science program for Leadership, but also has taught multiple courses in the program for every cohort. When not helping ProSTAR, Lybrook is an associate professor in the Department of Technology Leadership & Innovation. He is a pure Boilermaker, having earned both his bachelor's and master's degrees from Purdue University.
Lybrook is active in professional associations, including the Association of Technology, Management, and Applied Engineering (ATMAE). He is involved in accreditation efforts, site visits and department affairs. He has also contributed time to various community associations.
He likes working with professional master's students in our programs. He asserts that the professional students "get it" when translating their academic efforts into their career efforts. He feels their maturity also helps them develop a clear idea of how they can utilize their education.
Beyond his Purdue responsibilities, Lybrook is an avid golfer (ProSTAR staff would agree that he is an accomplished linksman as well as avid). He also enjoys travelling and gardening.
He will enjoy watching our second leadership cohort graduate this spring while the third cohort completes its halfway-point milestone.