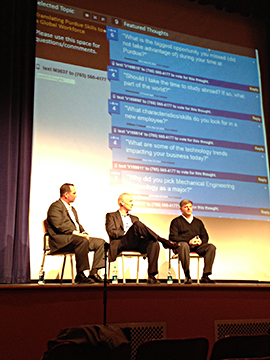 We had a great turnout at the March 5 MET panel discussion, Translating Purdue Skills to a Global Workforce, featuring three MET alumni: James Hill '95, vice president of Hill Mechanical Group; James Keppler '89, vice president of Whirlpool; and John Sofia '84, vice president of American Axle & Manufacturing. We can't thank them enough for taking time out of their busy schedules to come join us for the day for both the panel discussion and our reception. The students and audience members were very active participants, and we had great questions being asked and answered.
In addition, we had a numerous faculty, friends, alumni, industry partners and students attend the March to Mackey reception at Mackey Arena, Spurgeon Club. We hosted a watch party for the away basketball game between Purdue and Wisconsin, and it was a great get-together with spirited conversations. It's wonderful to bring all of our faculty, friends, alumni and students together as part of the Purdue community to celebrate and catch up with everyone.
As an academic community, MET includes more than 500 undergraduates, 50 graduate students, 27 faculty, and nearly 5,000 alumni. This is a large community, and our arms are open to embracing all who want to join. Academic communities are unique, in that no matter where the graduates go and how long since graduation, alumni are always part of the Purdue community. The impact of four years at Purdue lasts a lifetime, and events like this are a great opportunity to refresh our memories and meet fellow MET alums.