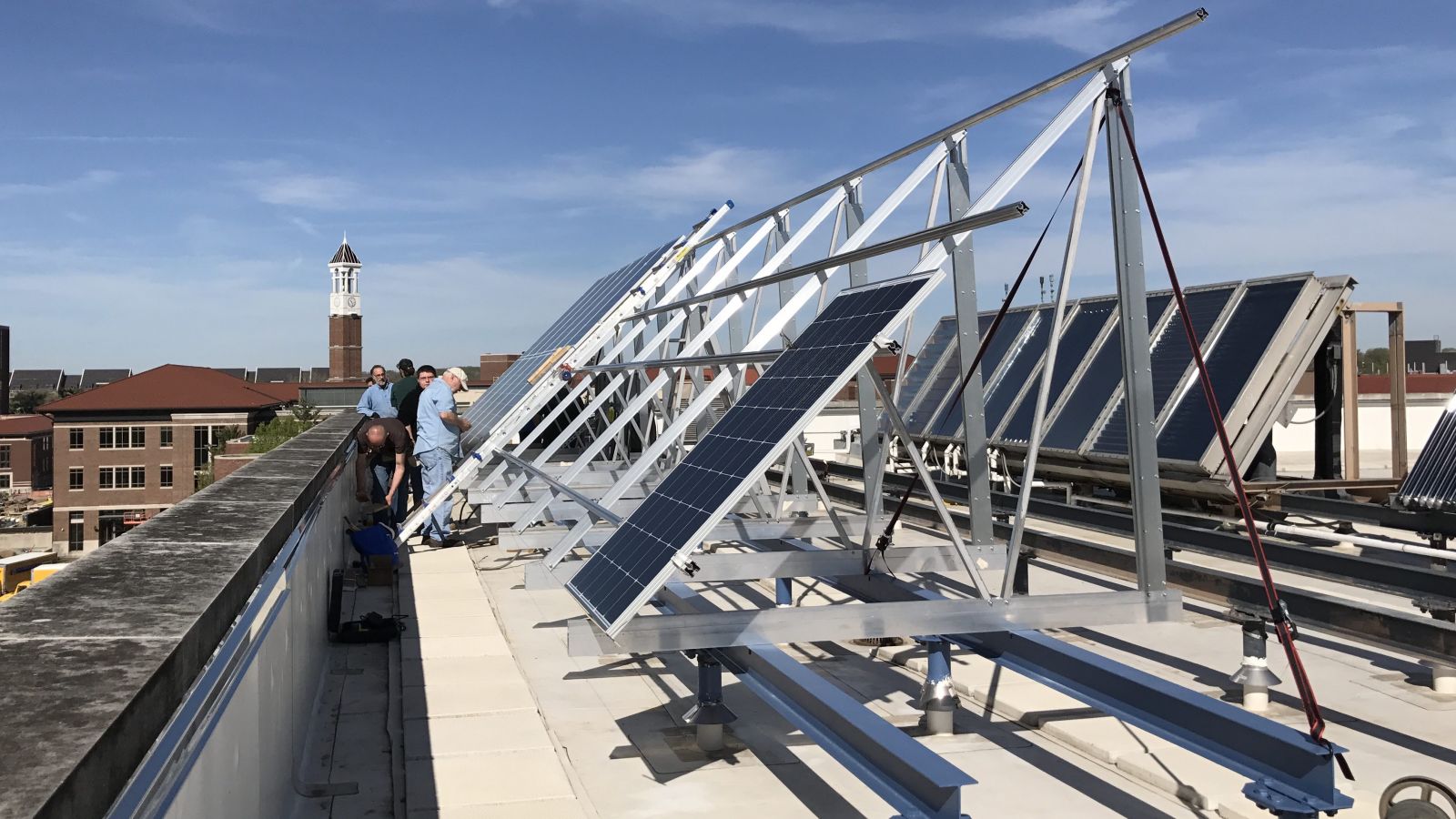 A state-of-the-art solar array used primarily for learning and research has been installed on Knoy Hall's rooftop. The new 28-panel array replaces a 24-panel system installed 17 years ago.
The new solar photovoltaic array, comprised of panels each roughly the same physical size as those previously installed, will generate nearly three times more electricity than the old array despite expanding by only four panels.
Although students who take courses in Purdue Polytechnic's Applied Energy Lab will have opportunities to see the array up close, real-time data on the array's power generation is fed to a website.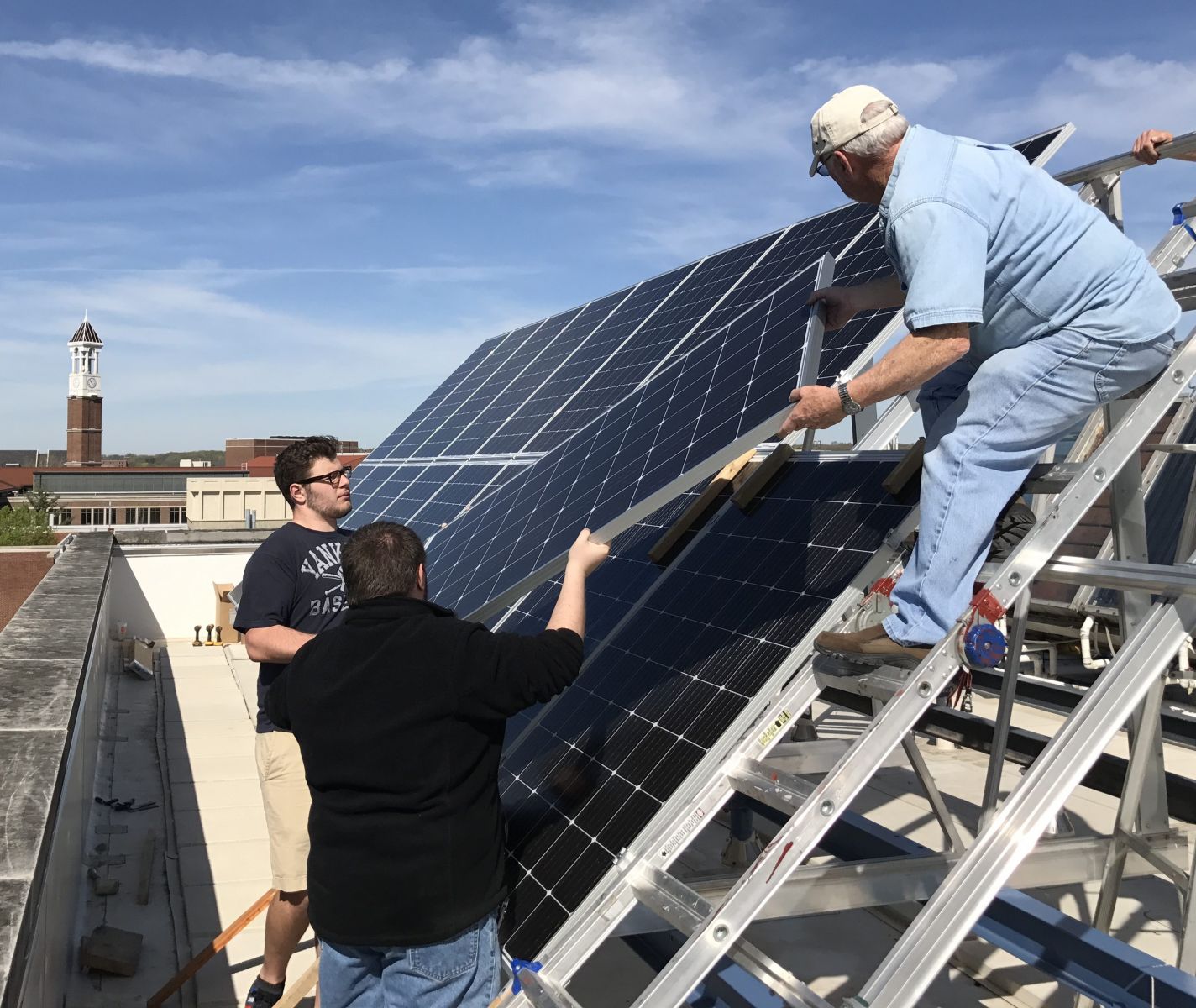 "As a lab assignment, students will look at power output and current weather conditions to calculate efficiency, or how well these panels convert sunlight into useful electricity, to get a more meaningful understanding of what's happening," said Bill Hutzel, professor of mechanical engineering technology.
On a sunny day, the new array is capable of generating a peak output of eight kilowatts of electricity. The previous array, installed in 2000, had a peak output of less than three kilowatts of power. The electricity produced by Knoy's new array every year would power a typical American home.
The array is also providing new opportunities for research.
"We're working with other departments on campus to look at the long-term degradation of solar panels," Hutzel said, "to develop better models to predict how they age and when they'll need to be replaced."
In addition to providing power, learning opportunities, and research projects, Knoy's new solar array may help demonstrate the feasibility of diversifying the University's energy supply. Purdue's Wade Utility Plant currently generates electricity using natural gas and coal, and the University also buys a portion of its power from Duke Energy. Hutzel believes Purdue should start thinking about green energy on a larger scale.
"We've done some research on the economics of utility-scale solar installations, and the numbers are favorable, even for a place like Purdue. As the University develops its sustainability plan, the time is right to do some long-term planning" for large-scale solar power production in West Lafayette, said Hutzel. "With economies of scale, the cost of utility-scale systems has come down to the point where it's worth considering. It might not be tomorrow or the next day, but solar energy will be very feasible for Purdue in the next several years even though we enjoy our own power plant."
Land near airports can be suitable for solar farms, Hutzel said. In 2014, the Indianapolis International Airport completed installation of the world's largest airport solar farm, and it now produces more than 15 million kilowatt hours of electricity annually. Hutzel suggested that the area south of the Purdue University Airport, already restricted from development of new buildings due to the proximity of the runways, might be a good location for a significant solar installation.
"A site that's still relatively flat, undeveloped, and with access to electrical infrastructure is a pretty good candidate for a utility-scale solar array," he said.
Engineering technology students in MET 22000 (Heat and Power) worked with the new array's manufacturer on the design of a plug-and-play electrical wiring system and on the rack system to which the panels are attached. Construction management technology students in BCM 21601 (Electrical Construction) collaborated with personnel from Purdue's Physical Facilities department to install the system on April 18.
Hutzel noted that Jan Lugowski, associate professor of mechanical engineering technology, and Wil Arnett, a graduate research assistant in the School of Engineering Technology, also played key roles in getting the array built, with assistance from Jim Lane, mechanical engineering technology lab supervisor, and Clayton Kibbey, engineering technology lab engineer. The team finished inspecting the new systems and turned it on for the first time May 9.
Additional information: