Originally published in the 2016 edition of Innovation magazine
Your time at Purdue gives you some of the most memorable and valuable experiences of your life. It shapes who you are and how you contribute to the world long after you leave campus. Years later, you and the friends you made on your college journey will reminisce about those wonderful times when going to bed at 2 a.m. was early, and hustling to get that last-minute project completed was the norm. Wouldn't it be grand to live those times again?
Just because you are now among the proud alumni does not mean your journey with your alma mater is over. There are many ways that you can directly impact the current and next generation of Purdue Boilermakers. These opportunities are simple; they don't cost much; and you get ways to invigorate the inner Boilermaker that you will always carry with you. As alumni, we have a great impact on the world and we can still make a big impact on campus, even if we are hundreds or thousands of miles away.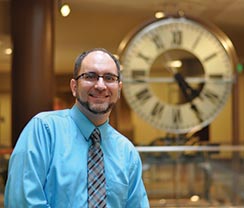 You might be thinking, "OK, so what can I do?" Great question! I come to you as the incoming president of the Purdue Technology Alumni Board. The purpose of our board is to reach out, connect with and engage our alumni in meaningful ways. We want you — alumni fresh out of college, or established leaders who have had fantastic successes in life — to be a part of our alumni family. It is the board's job to foster those relationships and make sure that you continue to be proud of your alma mater, your degree, and the successes of your fellow Boilermakers.
While I was vice president, I did a great deal to maintain my sense of awe about my days on campus by staying engaged, reaching out to incoming and current students, and networking with fellow alumni. As board president, my focus is going to change so that we are actively reaching out and seeking active participation from our alumni. The Purdue Polytechnic needs us all to help inspire high school students to consider Purdue's world-class education in technology disciplines. Furthermore, current students need guidance and insight from experts already in the field. Finally, when alumni stay connected, the Boilermaker spirit continues to live on, even when we are far from campus. These are all activities you can be a part of; they can help carry on the ubiquitous sense of the Purdue family from your corner of the world.
I look forward to interacting with you as incoming students, current students and alumni. We want to continue building a strong and proud Boilermaker family. Please be sure to join us on Facebook, LinkedIn and Twitter.
Boiler up and Hail Purdue!
Corey Seliger