Video: Staff at Best Friends Animal Society in Mission Hills, Calif., help Kay, a dog born with a malformed front leg and paw, try on 3D-printed prosthetic devices designed and made by Purdue Polytechnic students.

Rosemary Astheimer, a continuing lecturer in Purdue Polytechnic's Department of Computer Graphics Technology (CGT), had a "pet project" for the class she teaches. An affectionate dog named "Kay" had been rescued by the Los Angeles South LA City Shelter and Best Friends Animal Society in Mission Hills, Calif. Kay had been born with a malformed front leg and paw, which didn't appear to cause the happy dog any pain, but it also didn't help her stand, walk or run. Astheimer wondered if Kay would benefit from a 3D-printed prosthetic limb. But what would the prosthetic leg look like, how would it work and by what means would it attach to Kay's body? To find out, Astheimer made it a class project.
Astheimer teaches CGT 22600 (Introduction to Constraint Based Modeling). The course teaches students how to design objects in 3D computer-aided design (CAD) software. Those objects are then created using a 3D-printer, which "builds" items with a nozzle that deposits row upon row of melted plastic that hardens as it cools. (Imagine a baker's piping bag, but with melted plastic instead of frosting.) Another term for "3D printing" is "additive manufacturing," because objects are created by adding to a form rather than removing from a form, as is the case in traditional manufacturing using subtractive processes, such as sawing, carving or wood turning.
In California, where Kay was awaiting adoption, rescue personnel made a cast of Kay's nonworking leg to form a model of it, and shipped the model to Massachusetts, where Astheimer lives and from where she teaches remotely. To get the precise shape of the model, it was scanned with a laser by interns at Dassault Systèmes 3D Experience Lab in Waltham, Mass.
Meanwhile, Astheimer's 66 students had been divided into 16 teams. Each team researched various types of prosthetic devices to use for Kay's replacement leg. When the model's data was received from Boston, the teams incorporated the information into their designs. Solutions included basic peg-legs, wheels, springs and curved "running blade" styles. The prosthetics were 3D printed and assembled before being shipped to Best Friends Animal Society in California for Kay to try on.
Erik Bianchi is a technology specialist at Best Friends Animal Society. He was Astheimer's liaison for Best Friends during the project.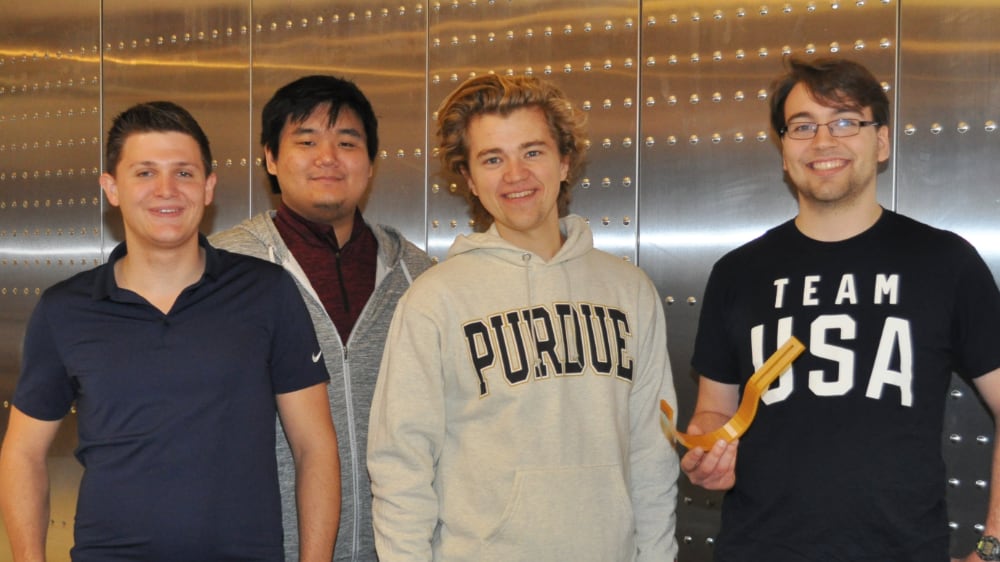 "When I heard about this project, I immediately fell in love with it," said Bianchi. "Just seeing a teacher have this idea – to take a class like this one and use the project to make real-world impact for animals in need – that was so great to see."
Eric Shim, senior in web programming and design, and Robert Meya, senior in aeronautical engineering technology, were members of team "Bow WowWow!" Both students became more experienced with 3D printing, thanks to the class.
"It helped me problem-solve and got me a bit more familiar with using the program," said Shim.
Meya had some practical advice for future students taking a 3D printing class.
"I learned that you should aim to assemble your (3D-printed) pieces as early as you can, especially when the components involved are complex ones," said Meya. "Those components might need to be printed in multiple parts to come out right."
Meya also took away a "big-picture" realization from the project.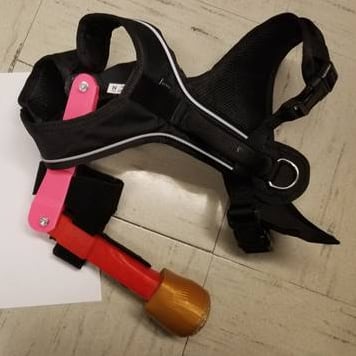 "I really liked designing something and then seeing it become reality with the potential to be of some use and do some good in the world."
As Best Friends' technology specialist, Bianchi shot the videos of Kay sampling her new "footwear."
"It was amazing to see the different designs that the students came up with, given the same source material (a mold of her leg). They all felt similar to some of the expensive professional prosthetics that cost in the thousands (of dollars)."
Astheimer admired the long-distance cooperation among everyone involved, including a time during the project when she needed the model of Kay's leg scanned, but didn't have access to the equipment required.
"I posted a message on LinkedIn, asking, 'Is there anyone in the Boston area that has a 3D scanner who can help me out?'" she said. "That's how I got connected to the wonderful people at Dassault, who were total strangers before my post. All of us, we were all so far away," she reflected, "yet we were still able to accomplish this together."
Kay was adopted while the students were working on their prosthetic designs. Her new "pet parents" coordinated schedules with staff at Best Friends so Kay could try on all the prosthetics designed for her.
One could say the theme of collaboration even extended to the winning prosthetic because Bianchi found different elements of three of the designs that worked well, and suggested creating a "mash-up" prosthetic that would incorporate the three design elements.
"(Submissions from teams) GoDoggo, DogSquad and Bow Wow Wow! all would combine to make something that could be great!" said Bianchi.
The 3D-printed parts for the project were manufactured in the Boilermaker Lab with the help of Davin Huston, assistant clinical professor in the School of Engineering Technology, and the student lab assistants.
If you would like to help homeless pets like Kay, donate online to the Los Angeles South LA City Shelter, Best Friends Animal Society or support your local animal shelter.
Social network connects Polytechnic instructor with missing piece of technology

Project Kay briefly hit a roadblock, when Astheimer needed the model leg to be scanned by a laser.
Not having access to the equipment needed for that procedure, Astheimer posted her request on the social network LinkedIn, where she connected with Shyam Venugopal, product manager for Dassault Systèmes, an international, large-scale 3D CAD software company. Venugopal, in turn, introduced Astheimer to his colleague, Abhishek Bali, who manages the Open Innovation and Startup Accelerator Lab of Dassault Systemes at Boston.
Bali's intern students added calibration points to the model and then used a laser to scan the model into 3D software for Astheimer, who then forwarded that data to her Polytechnic students in West Lafayette, Ind., to use for the assignment.
Additional information: