Eight teams of students showcased their technological solutions to today's challenges at the Purdue Polytechnic Design & Innovation Challenge, held Dec. 6, 2018, in Knoy Hall. The Design & Innovation Challenge was the culminating event for students enrolled in TECH 12000 (Design Thinking in Technology) and TECH 34000 (Prototyping Technology for People) courses, which are the "bookend" classes for the Polytechnic's Design and Innovation Minor.
"The Design & Innovation Challenge spotlighted students in two of our courses dedicated to innovative problem-solving," said Nathan Mentzer, associate professor of engineering/technology teacher education in the Department of Technology Leadership & Innovation at Purdue Polytechnic. "'Design Thinking in Technology' students address open-ended, local problems with global significance, such as Advanced Personalized Learning (the practice of customizing teaching methods to each student's preferred learning style), and devise solutions for those challenges. 'Prototyping Technology for People' students devise products that solve problems and then create prototypes of their products. They continue to refine their products by incorporating comments and feedback from consumers who test the products."
By demonstrating their innovative designs and pitching their problem-solving, technological ideas, teams competed for four prizes that included cash and scholarships to enroll in the Polytechnic Design and Innovation Minor. Audience members' votes decided the winner of the Crowd Favorite award, worth $500 cash to the winning team.
Gary Bertoline, dean of Purdue Polytechnic, announced the winners.
"Although there are only four awards today, you are all winners and should all be proud about what you've accomplished," said Bertoline. "You demonstrate what it means to be in the Polytechnic."
The Purdue Polytechnic Design & Innovation Challenge was sponsored by Autodesk Education and the Purdue Polytechnic Design & Innovation Minor.
TECH 340 1st place: Smart Spray (Precision Agriculture)

Team members: Jakob Kerr, senior, engineering/technology teacher education; Shaini Wilson, senior, organizational leadership; Lauren Schwab, senior, transdisciplinary studies in technology
Jakob Kerr, a senior majoring in engineering/technology teacher education, said he and his fellow seniors, Lauren Schwab, transdisciplinary studies in technology, and Shaini Wilson, organizational leadership, "wanted to tackle something in the 'world challenges' realm, using data to fix an issue with agriculture." With better water management increasingly becoming a priority among farmers, the team members turned their attention to developing "smart" agriculture irrigation technology.
Scott Bartholomew, assistant professor in engineering/technology teacher education, connected the students to Sentera, Inc., an agriculture software technology company based in Minneapolis. Sentera manufactures specialized sensors that attach to drones and fly above crops. The sensors can register a number of different field conditions, including recording the water content of the soil. The software program maps the moisture information and relays it to a computer monitor, which displays the moist parts of the field in one color and the dryer parts in a different color.
"We purchased the drone through Sentera and had a representative come out and teach us how to use the software and how to fly the drone," said Kerr.
Armed with that information, Kerr, Schwab and Wilson devised a "smart sprayer" irrigation system to complement Sentera's technology. Their smart system reacts to the need (or lack thereof) for moisture as determined by the drone's sensors, and actuates the irrigation sprinklers as needed.
"Ideally, we would like to patent the design and possibly move forward with it, seeing as most people agreed this was a problem that needed to be solved," said Kerr.
TECH 120 1st place winner: Modular Prosthetic

Team members: Evan Pyle, first-year student, virtual product integration; Henry Sofge, sophomore, computer and information technology; Jake Green, sophomore, web programming and design; Harsha Mohite, junior, game development and design
The inspiration for Tech 120's first-place-winning project was a hometown friend who had survived a life-changing injury. Evan Pyle, a first-year student majoring in virtual product integration, had attended high school with the friend but the two went on to different universities. It was while she was away at school that Pyle's former classmate strung a hammock between two brick columns on the front porch of her campus house, only to have those columns topple down upon her when she sat in the hammock. The resulting injuries were so severe, one of her legs was ultimately amputated.
Pyle shared the story of his former classmate with his Tech 120 teammates, and the group devised the Modular Prosthetic, a 3D-printed artificial limb. The limb can accommodate different types of 3D-printed feet, including a running blade style. The limb's telescoping design allows the length to be adjusted by snapping into position with locking holes, similar to a crutch's design.
The team pursued feedback for their design from family members and friends who had experience with prosthetics.
"I showed the model to my brother-in-law, who is a nurse and frequently works with amputees," said Jake Green, a sophomore majoring in web programming and design. "Harsha (Mohite) showed it to a med student, and Evan (Pyle) showed it to an amputee to get feedback."
"I think it would be pretty cool if we apply for a patent," said Pyle, "and possibly make a business out of this one day."
TECH 120 Second Place Winner and Crowd Favorite: More Efficient Waste System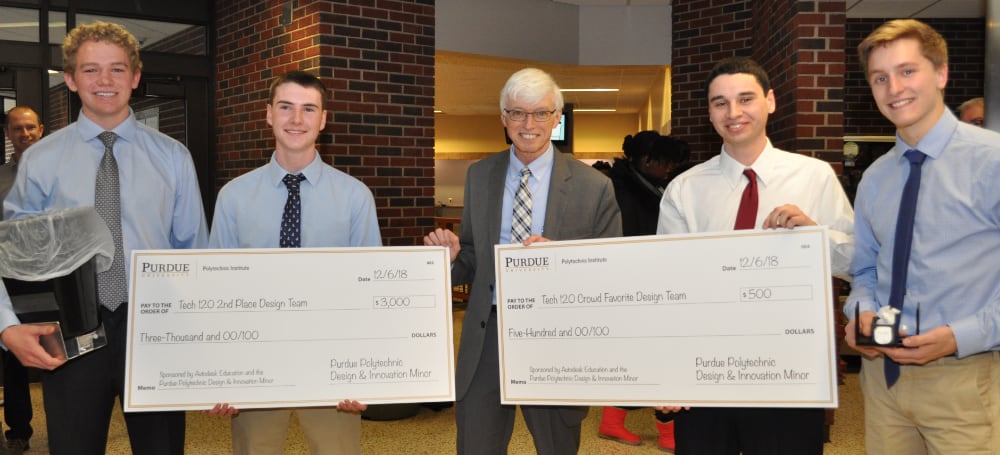 Team members: Aidan Benson, sophomore, computer and information technology; Ross Bezold, sophomore, construction management; Whitman Jerman, sophomore, mechanical engineering technology; Allan Koester, sophomore, mechanical engineering technology
Not all problems are monumental in scope or global in nature. Some problems are relatively small and localized to one's own house, but being repeatedly annoyed at something minor might be all that's needed to solve a universal grievance.
"We realized that most of us (on our team) had a common pet peeve," said Aidan Benson, a sophomore in computer and information technology. "We all had very messy roommates. And even after the trash would be taken out, people would not want to put in a new bag. Our instructor told us about a dispenser for baby diapers that he had. This got us thinking along the lines of a similar dispenser or tissue box design, but for a trashcan."
The team's idea went through several iterations. They settled on a prototype that consisted of two parts: a 3D-printed dispenser bracket holding a replacement roll of trash bags horizontally, and a plastic trash receptacle with a slot in the bottom that fit neatly atop the dispenser. The only assembly required is feeding the first bag on the roll through the slot in the bottom of the container. When a full bag of trash is removed from the container, a fresh bag – which had been previously threaded through the slot – can be adjusted into place in the container even before the bag of trash is removed from the room.
Benson said the More Efficient Waste System was the team's second design idea after putting in a good deal of research on their initial project, which didn't pan out. Because of this unexpected lesson, Benson stressed the importance of being flexible.
"After changing directions halfway through the project, we were just trying to have a product ready for the due date. It came as quite a surprise when we became one of the finalists," Benson said. "Our group's success illustrated that it is OK if you don't initially know what you want to do. Or, if you have an idea, and it isn't working out, it's not impossible to change it into something more feasible."
About the Design & Innovation Minor

The Design & Innovation Minor is 15 credits, with a core sequence of three courses: TECH 12000 (Design Thinking in Technology), TECH 22000 (Designing Technology for People) and TECH 34000 (Prototyping Technology for People). TECH 22000 is offered in the spring semester and is the next step for students pursuing the minor after TECH 12000. More information can be found online.