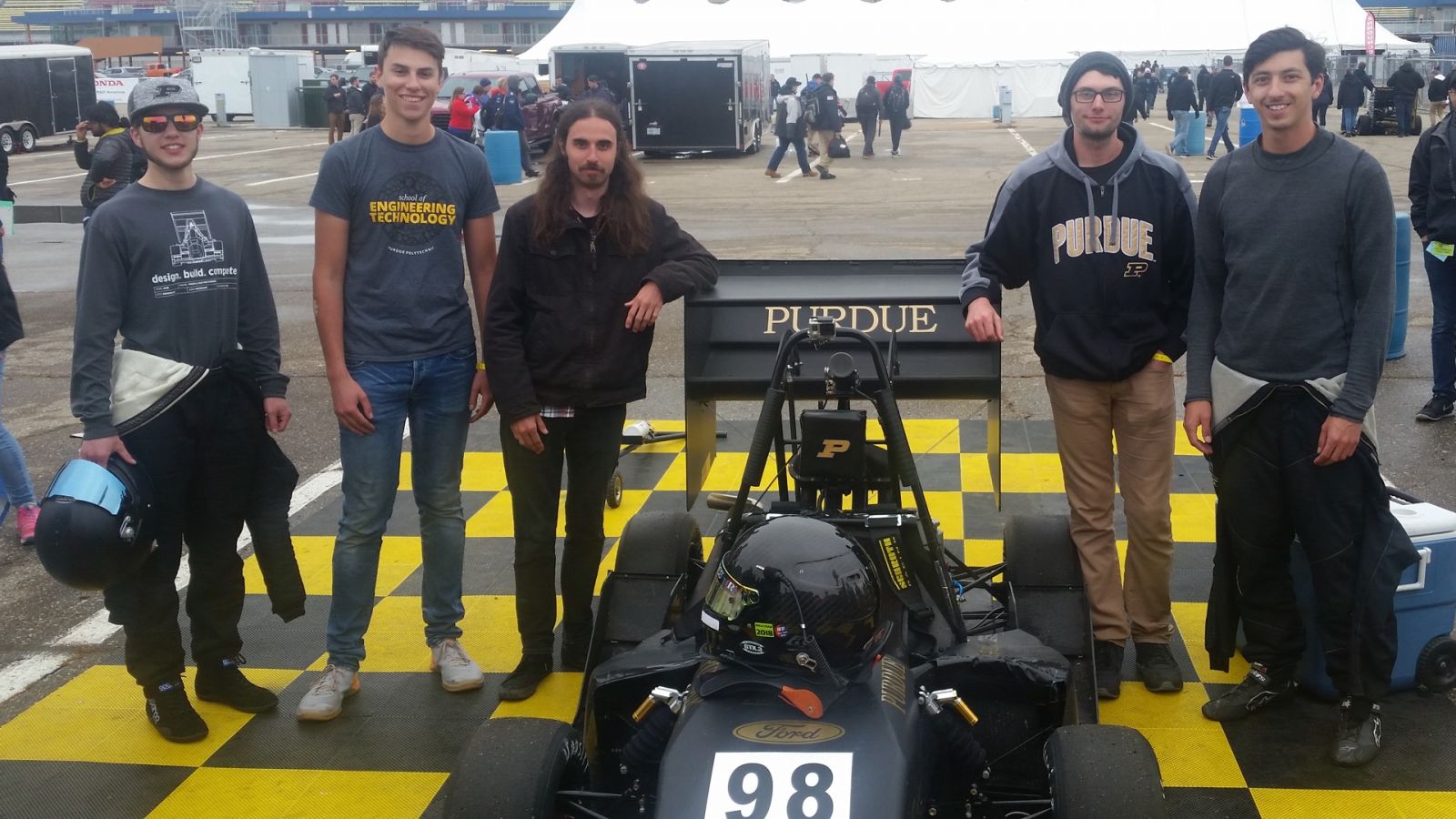 If you're a Purdue student and would like to get some fast-paced lessons in aerodynamics, electrical systems, design and manufacturing, Polytechnic student JP Peerbolte suggests you explore Purdue's Formula SAE team.
Formula SAE (Society of Automotive Engineers) is a student challenge based around designing, building and racing single-seat, Formula-style cars. The Purdue Formula SAE team competes in an annual race at Michigan International Speedway in Brooklyn, Michigan. The four-day event in May consists of dynamic (driving and racing) events and static events against university teams from across the globe, including Michigan, Cornell, Singapore, Michigan State, Ohio State and San Jose State. Last May, Purdue SAE placed 14th out of 136 teams, achieving the team's best competition finish in more than a decade.
​Tyler Ballinger (BS '18, mechanical engineering technology) said dedicated individuals who are goal-oriented and have can-do attitudes thrive on the team. "A typical workweek for most members involves 10-60 hours in the shop, depending on their sub-teams and roles," said Ballinger. "A student who is willing to put in long hours of their free time, committed to the less-glamorous tasks that make up the bulk of the work on the car – in addition to the exciting design and manufacturing work – are invaluable."
Ballinger said Formula members must have an aptitude for self-directed, hands-on learning and a desire for constant self-improvement.
"Previous motorsports or engineering experience is not a requirement to join Formula but, unfortunately, we don't have a formal education program to bring new people up to speed," he said. "The way new members learn is by working in the shop alongside more experienced members, by seeking out more information on their own time, and by completing individual projects assigned to them by the team leads. Because of this, the most valued team members are the ones who can work by themselves to solve problems, can quickly pick up the correct way of doing things, and who are constantly looking for ways to improve the team, the car and themselves."
The Formula SAE team welcomes students who work well with a team on constantly evolving projects. "The design of the car is finalized about six months before competition," said Ballinger. "However, there are constant modifications throughout the year among the respective sub-teams about the details of the design and manufacturing. For example, we'll continue to fine-tune the locations of the mounting points for the aero package. Someone who is flexible and can adapt to changing circumstances, while still getting the most out of their design, is the kind of person we wish we had more of."
If you're interested in Formula SAE, attend their callout at 6 p.m. on Thursday, September 6, 2018, in PHYS 114.
"The best way to truly get involved and not just 'join' the team is to show up in the shop as often as possible, and to be excited about every aspect of our work," said Peerbolte. "There's always plenty that needs to be done, and the best way to learn how to work on the car is by rolling up your sleeves and doing as much as you can, as often as you can."
Additional information: