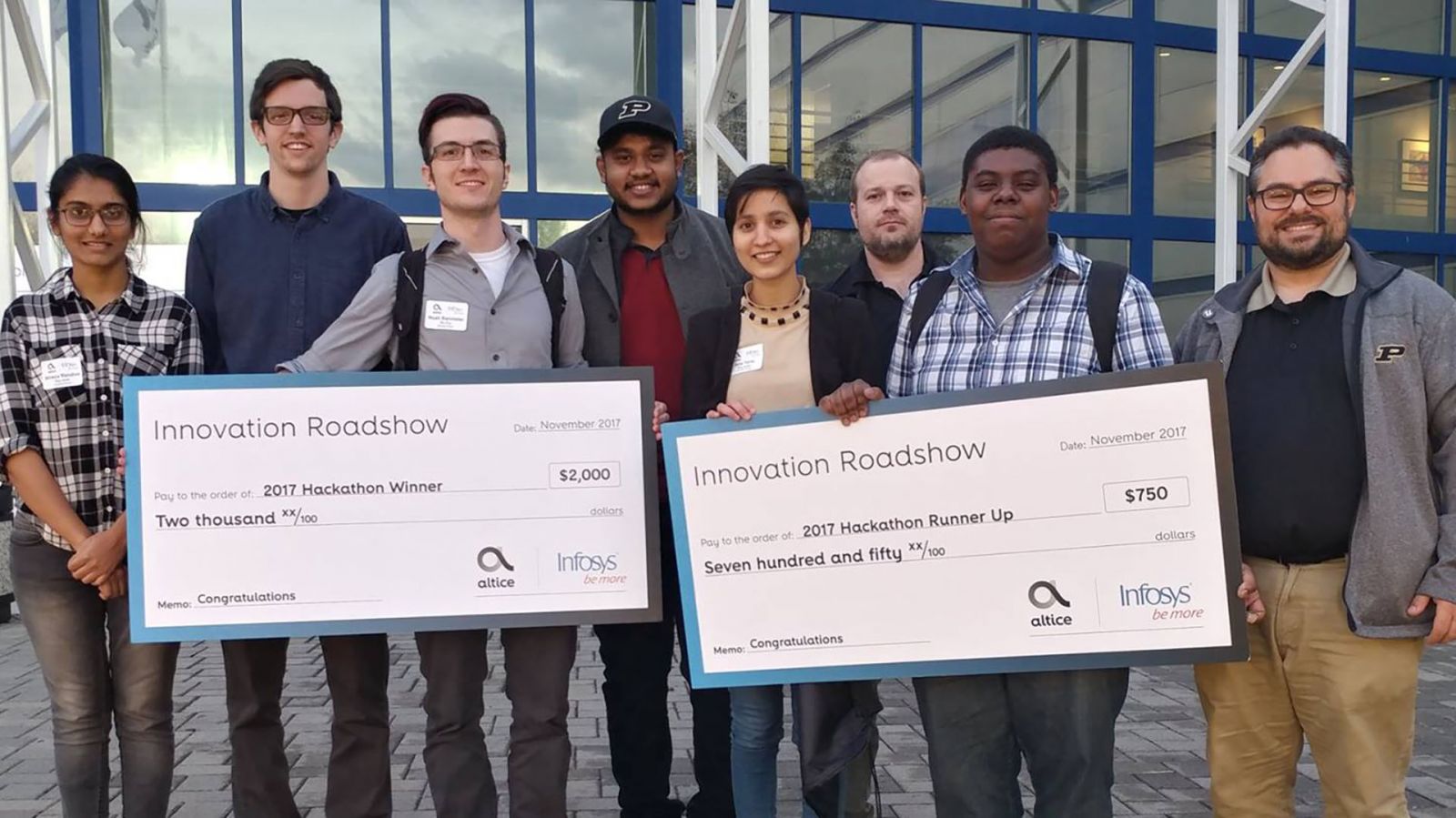 Two three-person teams brought home first and second place finishes from the 30-hour Altice and Infosys Innovation Hackathon held in Long Island, New York, from November 15–16, 2017.
The Polytechnic teams dubbed themselves Bo-zos and May-Bees, and participated in the Enhanced Digital Experiences/Fan Ovation track of the hackathon. As part of its technology landscape, the Fan Ovation challenge could incorporate:
Augmented reality
Virtual reality
360 video
Gaming
Artificial intelligence
The Bo-zos team, which won first place, devised a product for sports fans called "Vantage" that empowered the content viewers to steer their own viewing experience by changing perspectives at a sporting event in real time.
"Say you are watching a football game," explained Pradeep Periasamy, graduate student in Computer Graphics Technology. "You could watch the game from a player's perspective or from the referee's perspective or the announcer's perspective at your own will. You wouldn't be limited to the content broadcaster's point of view."
For their hack, the May-Bees team re-created a 3-D scene from a video and gamified it using product placement as a monetization opportunity for Altice. "This would be an additional feature that the users could enjoy at the end of a movie or TV show," explained Darius Bigbee.
The students competed against teams from Columbia University, Cooper Union, Hofstra University, New York University, Stevens Institute of Technology and Stony Brook University.
Accompanying the students were Ray Hassan, clinical assistant professor of computer graphics technology, and Dan Triplett, lecturer and course developer in computer graphics technology game studies.
Learn more about the Altice and Infosys Innovation Hackathon.