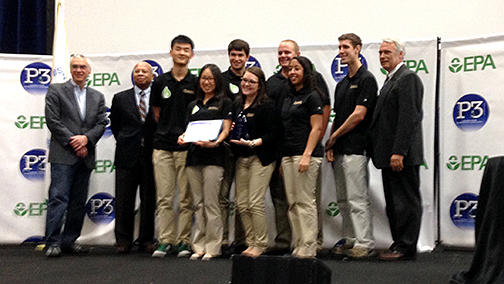 by Charles Adams III
Update for April 28, 2014
The Purdue University Biowall team was one of seven named winners at the 2014 People, Prosperity and the Planet (P3) Student Design Competition for Sustainability. The team's project was also recognized by the Youth Council of the American Institute of Chemical Engineers as having the outstanding sustainability entry of the competition. As one of the winners, the team could be eligible for grant funding to start to commercialize their idea. Announcements about which winning teams receive funding will be made at a later date.
Team members accepting their award (top photo) were: (front) Linhan Huang, economics; Michelle Bouley, interior design; Moriah Yearwood, horticulture and landscape architecture; (back) Yu Xue, botany and biochemistry; Dan Newkirk, mechanical engineering technology/ecological sciences and engineering graduate student; Adam Drummond, mechanical engineering technology; and Andrew Martin, architectural engineering.
Read about all of the winners and their projects on the EPA P3 web site.
Advisors to the team are Bill Hutzel, professor of mechanical engineering technology; Mike Dana, professor of horticulture; and Ming Qu, assistant professor of civil engineering.
Original post from April 25
A panel of judges in Washington, D.C., will decide on whether to fund a project that will help people feel more comfortable in their homes by improving air quality.
A team from Purdue University will present its biowall project Saturday (April 26) in the People, Prosperity and the Planet (P3) Student Design Competition for Sustainability. The group has been led by College of Technology graduate student Dan Newkirk. After winning the first phase of the competition in Fall 2012, the team received $15,000 in order to fund research and design development.
The biowall, as part of a building's heating and cooling system, helps break down toxins in built environments that can pose health risks for people.
"All man-made things have toxins," Newkirk said. "These can accumulate and become problems, causing things such as a runny nose or headache; they can also contain carcinogens that lead to cancer and other issues."
The eight-person team represents a diverse range of academic areas within Purdue. The group's advisor, William Hutzel, professor of mechanical engineering technology, said the make-up of the team is unique because of the variety of majors and backgrounds.
"There is everything here from horticulture to interior design to economics and engineering," said Hutzel. "That is why this project is so special. We have so many different views and positions going into it."
On Saturday, the team will present before the United States Environmental Protection Agency. If the project is chosen, $90,000 will be granted to turn the biowall from a concept to a reality. Although there will be others presenting as well, Newkirk said he has confidence in all the work that has been put into this project.
"A lot of teams are focusing on developing countries and new innovations there," said Newkirk. "Ours is about a developed world."
Related sites and resources:
(Photo: Dan Newkirk shows off the complete display for the biowall, to be presented at the P3 competition.)